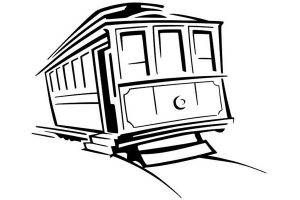 Most of the time when people talk about "one for the road" they're referring to a beverage to take along with them on the way out of the door.  But in this example the one for the road included not one but four adults…destination New Orleans, LA.  I'd never been but had seen different facets of the city on TV.  Each member of our caravan had their own piece of the city carved out in their minds as a favorite tourist's attraction.
My husband's was all about taking pictures while standing under a C-47 just inside The National WWII Museum which left me cold.  Once inside, however, there was a 5D movie which made your seat vibrate and you could see the rocket's red glare as the bombs burst in midair flying low overhead through the snow. It actually was kinda cool.
We trekked onward to a couple of semi-restored Southern cotton plantations with a unique acumen into the slave life and their quarters. We found a quaint outdoor niche where we gobbled down some delicious muffulettas (say that fast seven times)–a NOLA sub sandwich special–we bought earlier.  A mint julep or two made our lunch complete.
When I was a kid, my mom used to take me on a streetcar ride on our way to an afternoon full of fun. (Remember there was no such thing as STAR WARS back then.) I hadn't ridden a street car since so this was a real treat.
The paddle wheel cruise was a fun thing for me although I seemed to be the only one.
You could snack on powdered sugar beignets on any street corner and while our small group did just that I went more for the exotic (who knew alligators could be so tasty?)  Although we all got our fair share of walking the streets there were plenty of buses you could hop on and hop off that were designed to let the tired old dogs take a respite without missing any of the sights.
My girlfriend, like myself, is an avid gum chewer except she never brings any with her.  She carries these tiny little hand bags knowing that they have zero room for anything.  After she'd chewed all my gum I went into a CVS to purchase some for both of us.  I was shocked to discover, that you cannot buy gum anywhere in NOLA…reason, it gets ground into the fibers of the carpet and the cobblestone streets.  The hotel concierge explained it made the streets dirty.  Really?
I could give you quite a tutorial on dirty streets, especial Bourbon Street.  Ick!  I will say it posed constant entertainment, though, as no matter what time of day or night, the streets were flooded with parades.  One of the tour guides explained that people in NOLA required no reason to party down.  Gum shoes be damned!
The on/off bus ride took us down some avenues in a warehouse district home to (among other things,) huge buildings where many of the Mardi Gras floats are assembled.  I think we all found this to be a real taste of New Orleans.
One thing that was on my list was to explore the TV sets used during the filming of the NCIS NOLA TV series.  Unfortunately, the on/off bus buzzed right past them.  My husband and Mike would say their favorite part was standing right under an 80-year-old C-47.  This is the military version of a Douglas DC-3. (What does that even mean?)  But we all agreed despite the rainy ride back that a stop at BUC-EE's makes any trip complete and you can buy gum there!