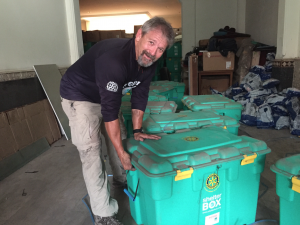 ShelterBox USA welcomed Argyle resident Brian Glenn into their Hall of Fame after Glenn recently reached a fundraising milestone, raising more than $100,000 to provide emergency shelter and supplies to people who have lost their homes to disaster or conflict, according to a news release.
Since 2000, ShelterBox has provided shelter, warmth, and dignity following more than 300 disasters in over 100 countries. ShelterBox responds urgently to earthquake, volcano, flood, hurricane, cyclone, tsunami, or conflict by delivering boxes of essential shelter, aid and other life-saving supplies.
Of the more than 400 ShelterBox Ambassadors across the country – volunteers who represent ShelterBox in their communities and fundraise on behalf of the organization – Glenn joins 31 others who have reached the $100k fundraising milestone. The funds raised through his efforts have provided more than 100 families with emergency shelter and supplies.
"Volunteers are imperative to ShelterBox's ability to provide warmth, dignity, and hope to vulnerable families during their time of greatest need," said Kerri Murray, ShelterBox USA President. "We cannot thank Brian enough for selflessly giving hundreds of hours of his personal time to generate support and compassion for people around the world."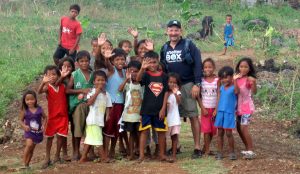 Glenn recently retired from his role as Battalion Chief of the Denton Fire Department, where he served for more than 30 years. He learned about ShelterBox in 2010 through the Denton Morning Rotary Club, where he is a member, and was inspired to get involved. He started volunteering as a ShelterBox Ambassador to raise awareness and funds for disaster relief in his local community, according to ShelterBox.
After becoming an Ambassador, he joined the ShelterBox Response Team and has been deployed around the world to deliver ShelterBox aid items, most recently to Indonesia. Glenn has received the President's Volunteer Service award numerous times for his many hours dedicated to volunteer work.
ShelterBox provides humanitarian aid in the form of family-sized tents and essential tools to start repairing and rebuilding homes. Additionally, the organization's kits and boxes contain items that help transform shelter into a home, like cooking sets, solar lights, blankets, water filtration, and activity sets for children.
ShelterBox is currently responding in Indonesia following a series of major earthquakes, Kenya and Ethiopia after severe flooding, Somaliland after severe drought, and the Philippines after Typhoon Mangkhut. The organization is also responding to shelter needs of refugees and displaced people in Syria, Iraq, Chad, Nigeria, Cameroon and Niger.
For more information, click here.