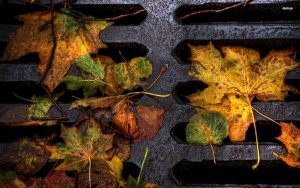 The town of Flower Mound is asking residents to help keep newly fallen leaves from polluting the local ponds, streams and storm water system.
Rain can move fallen leaves into the town's storm water system, ponds, creeks and streams, and this leaf litter can block needed sunlight to aquatic plants, reduce the amount of oxygen in the water and block the flow of a stream, causing flooding, according to a town news release.
"To be a good neighbor and prevent leaf litter pollution," the town news release said, follow these steps:
• Rake It – Clean up leaf litter on a regular basis
• Bag It – Place all raked leaves in waste disposal bags
• Recycle It – Leaves are a valuable commodity in a compost pile. Composting reduces the need for pesticides and fertilizers in gardens.
Homeowners who use a leaf-blower to direct leaves into the storm water drain are polluting the system, and, in some cases, practicing illegal dumping, the news release said. Illegal dumping is the disposal of refuse, including grass clippings and pet waste, in unapproved locations that threaten the environment and water supply, and poses a threat to the community's health, safety, welfare and property values. To report illegal dumping in Flower Mound, please call 972-874-JUNK (5865).