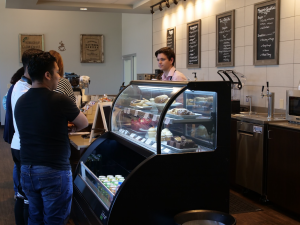 Deja Brew, a student-run coffee shop inside iSchool High Lewisville Entrepreneurial Academy, is now open for business.
The Starbucks-esque shop will celebrate its grand opening with a public ribbon-cutting on Dec. 6 at 2 p.m. with the Lewisville Chamber of Commerce, district administrators, local officials and students, according to an iSchool High news release. The new facility is on the iSchool campus, 1800 Lakeway Drive in Lewisville.
The new coffee shop gives students the opportunity to learn about running a business, one of the newest examples of iSchool High's efforts to foster innovative learning environments that empower students "to design their unique pathway to entrepreneurial success."
The iSchool is run by ResponsiveEd, a nonprofit that operates more than 70 tuition-free innovative public schools in Texas and Arkansas.