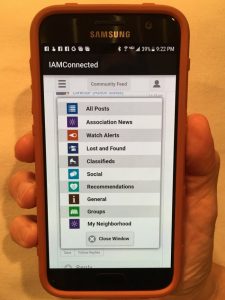 With all of the activities and events available to Lantana residents, the number one challenge is where to find out what's going on.
Many residents turn to various Facebook pages to ask questions, but those groups are run by residents and are not the official voice of the Lantana Community Association.
To streamline communication within Lantana, the HOA rolled out a new app and website in May 2017.
As opposed to social media sites like Facebook and Nextdoor, the IAM Connected mobile app and website provide a secure way for the HOA and residents to share news, events and alerts.
The app makes it easy to reserve amenities, access the resident directory, check the calendar, pay assessments and view payment history.
Another feature allows residents to send messages and photos straight from the app. So, if you spot a stray dog while on your daily walk, you can report it from your phone.
The app is available for download by texting "iamconnected" to 59248 from your smartphone. You can also visit lantanalive.com to sign up.
"It's an easy app for us to use to push information to the residents. It's very customizable and the homeowners are in total control on how they want to receive information," said Lantana Community Association Manager Mark Norton.
Call the HOA office at 940-728-1660 if you need help with the app.