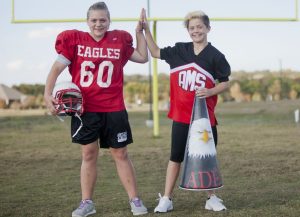 Cassidy Owen and Aden Sheets love to compete in their respective sports.
Owen, a defensive tackle and occasional offensive guard, felt the sport of football was a natural fit from an early age.
Sheets was originally a basketball player, who began to participate in cheerleading because it allows participants to "tumble and flip."
So?
Well, their first names don't reveal the story twist here– Owen is a girl and Sheets is a boy. They both participate in sports traditionally played by the opposite sex.
"Football is a challenging, contact sport," Owen said. "I felt comfortable with my ability to play football and be competitive enough to make a substantial contribution to the team. I haven't had a whole lot of exposure to other sports, so I wanted to continue with something where I was able to apply and build upon skill sets I have previously developed. I looked forward to football practice so much, that it gave me the motivation to get my job done at school and on the field."
The Argyle Middle School seventh grader has played football in Argyle Youth Sports Association since elementary school and said she, "wasn't really into any of the sports traditionally offered to girls in athletics."
Owen, 12, said she might try to play volleyball at some point down the line and said that playing football as a girl has come with its challenges.
"There are some of my classmates that were doubtful about me playing football," Owen said. "The doubters have changed their attitudes after they have seen how focused and determined I am to do well as part of their team. They really have accepted me as an athlete in my own right. I am competing as a part of a unified effort to achieve team objectives.
"Dealing with the doubters has been difficult some days. I have dealt with the negativity with optimism, courage and faith in God. God does not give us more than we can handle."
Argyle seventh grade football coach Steve Stinson confirmed that Owen has contributed to the team and plays an important role.
"She works hard in practice and does a good job on defense," Stinson said. "She also improves weekly in the weight room."
Owen said she hopes to continue playing football into high school– at least until ninth grade– and said one of the things that keeps her going is the support she receives from those closest to her.
"All my friends have supported my decisions and are thrilled when I tell them about my performance on the football field in terms of tackles and sacks," Owens said.
For Sheets, cheerleading is one of his two great passions; the other is dirt biking.
The Argyle teen began to compete in cheer in March of this year and said some of his friends were curious to the say the least.
"Some people were shocked," Sheets said. "They knew I could flip, but did not know that I would tryout. My close friends are very supportive."
Sheets, 13, said he has also had some naysayers, but added that he knows how to deal with them.
"I had a few, but I don't let that stuff get to me," Sheets said. "My tumbling coaches and family talked to me about all the kinds of reactions and how to handle it all. We did research on cheer and I found out cheerleading was an all-guys sport back in 1900's. There's so many famous guys that were college cheerleaders like [former] President George W. Bush and Mace Windu from 'Star Wars.'"
Sheets said he hopes to continue cheer through high school and receive a college scholarship. He said that the most difficult aspect of cheer for him is not physical.
"It's the time commitment," Sheets said. "It's lots of time for practice and several weekly games [in multiple sports] to cheer at. The time commitment increases for high school, so I hear. But it also gives me time to tumble; so it's not too bad of a gig."