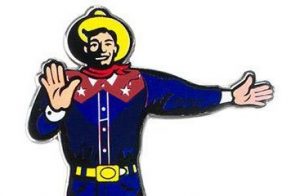 The Texas State Fair has something for everyone.  So as not to get burn out, we only attend about every three years and it's like all things are all new again.  There's no shortage of some fresh takes on some old foods.  I usually have to pass on the deep fried desserts, entrees, snacks and corn dogs because of the animated chat they'll have with my digestive track later. (For my money, deep fried Tums would be a very smart addition to the menu).
This year we took the grandkids and I was amazed at how many of the rides they were able to go on.  There is that measuring pole that decides the acceptable height for riders…so long as an adult makes the journey, too.  Age doesn't seem to matter (for the kids, not the adults).  The look on our six-year-old's face, as she did a solo run on one of the tamer thrill rides was priceless.  She had asked to go unaccompanied and her height made the requirement.  The look on her countenance said, "I'm such a big girl," while I shuddered in my boots.
An exercise in jolting left my four year old with a case of the giggles while I braced myself for each round of attack…I will never get in a bumper car again!  These things remind me of a spin out on a NASCAR track.
Funny to me was the fact that neither of the youngin's were impressed with Big Tex.  Maybe they didn't notice him, which I doubt was the case, because both my husband and I made certain to point him out.  I found him fascinating, especially since his surgery.
The other thing, which was a must, was to share a corn dog.  One was simply too large for one little girl.  As a reward for eating the "dog" there had to be something sweet.  You guessed it…the cavity creating cotton candy.  So here came the sugar high!  As if the rides hadn't caused an unrivaled adrenaline rush, the puffy sticky substance challenged the hyper-activity.
I think it only fair to confess that Ken and I were not alone with the children for this event.  My son and daughter-in-law were there every step of the way…I mean we'd have to be deranged to attempt this on our own.  Little kids, in addition to being sticky, are also very slippery…you can't let them out of your sight for a minute!  The one-year old was sequestered in his stroller for the most part and amazingly content to do so.  His mom let him out to run around for a bit and I scurried to keep up with him.  I took a brief glance upward to see how the family was doing on their ride and when I looked down, Ryker had managed to almost squeeze through a wrought iron fence meant to keep the likes of him out…like I said they're very slippery!
I think we'd all have to agree that one of our most favorite things was the petting zoo which was as clean as a whistle and consisted of mostly baby animals.  My son hoisted his son over his head for this one, offering a bird's eye view.  Once in a while the baby was lowered down for a petting fest making him squeal as loud as the piglets.  Since none of us had never been up close and personal with a kangaroo I believe that was everyone's favorite.  A joey (baby) popped its whole body out of the mother's pouch looked around and quickly retreated!  They are incredibly soft and we had to all but drag the children away.  Actually we did have to do a bit of dragging.
At the end of the day there was still much to see and do. But it was way cool that we were able to pet the roos.  We'll probably wait a year or two before we return for even more fun!
Sounds Fair Enough to Me!