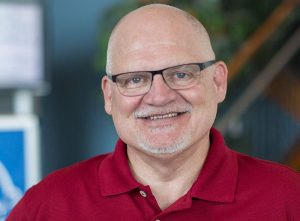 By Rev. Doug Meyer, Associate Pastor of Caring Ministries, Trietsch Memorial United Methodist Church
In a recent Uber ride to the airport Leon, the driver, and I struck up a conversation about the "state of the world" and the way so many of us treat each other nowadays. He told me a number of stories about experiences he has had as an Uber driver – they were shocking and discouraging!
I asked him what sort of advice he would give people if he could, and he said, "I would tell them just to do the next right thing." I asked how they would know what that was, he said "it is simple, just love God and love your neighbor!"
I could not agree more with Leon. The wisdom he shared is the same truth many of us were taught by grandparents, parents, teachers and faith leaders. Imagine a community where doing the next right thing based on the love of God and neighbor guides the decisions we make as we decide on the next words out of our mouths, or the next action we will take or not take! What a difference that would make!
What is the next right thing for you?
What would it look like in our communities if we embraced intentional acts of kindness and compassion?
What if we practiced respect and consideration for our neighbor or the stranger in the marketplace?
What if we made eye contact and shared a smile and a positive greeting?
I believe we all want the same thing, to be respected, to be treated fairly and to live peacefully in our community.
What do you say, as we draw closer to the holiday season, let's give it a try…do the next right thing – let it be guided by love of God and neighbors!
The Pastor's Place features columns written by a different area church leader each month.Call 940-728-8284 for more information.