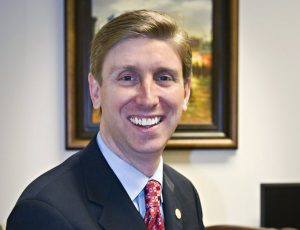 By State Representative Tan Parker
November is a time of year that my family deeply reflects on our blessings beginning with Veterans Day, a fitting occasion to begin the season of gratitude. I have had the honor of knowing many veterans, active soldiers, and military families throughout my life and learning their incredible stories of service. Each of these individuals have answered a call to selflessly serve and valiantly sacrifice for our great nation and the freedoms we hold dear. Although it is easy to believe that the only hardships our soldiers experience is during active duty, the reality is there are lasting implications for many veterans especially pertaining to mental health challenges.
Denton County has one of the largest veteran populations in our state. In order to meet their needs, we must continue to increase our commitment to ensure there are services and support in place to help those who have so bravely served us.  I am proud of the many organizations in place throughout our communities and the dedication of the wonderful people who make it their mission to help these true American heroes.
Though there are many who deserve recognition, I want to highlight the lives that are being restored through the help of Ranch Hand Rescue (RHR).  This wonderful nonprofit led by founder Bob Williams includes veterans assistance as part of their mission specifically those struggling with Post Traumatic Stress (PTS) through a very compelling form of animal therapy and counseling. When left undiagnosed or untreated, veterans often cope with self destructive behaviors that are damaging to their health as well as interfere or prevent their ability to connect with others, including those they love. RHR veterans' treatment and assistance programs improve outcomes by embracing these veterans and their families in a way that brings healing back into their lives.  Their success stories are riveting and we are truly blessed this vibrant mission is hard at work for area veterans.
In addition to other types of counseling programs, RHR provides the following: Veterans' Counseling Program, Vets for Vets, Service Dog Program, and the Nursing Home Veterans Program. The Nursing Home Veterans Program was established as a collaboration between our state General Land Office's Veterans Land Board and RHR to give residents of the Clyde W. Cosper Texas State Veterans Home who are struggling with PTS the opportunity to travel to RHR's facility for an eight week therapy and counseling course.  Upon the announcement of this state partnership, Commissioner George P. Bush shared that "like other wounds of war, PTS is an injury – one that can be treated, allowing those who suffer to return to their lives."   I am thrilled to know of the incredible work that organizations like RHR are doing to make a difference in the lives of veterans in great need.
I hope you will take a moment to start your season of Thanksgiving by getting to know organizations like RHR or simply attending an area event celebrating our nation's veterans.
The Town of Flower Mound is hosting their Veterans Day Ceremony and family picnic on Sunday, November 4th at Flower Mound High School Football Stadium starting a 1 p.m. Additionally, the fifth annual Veterans Day Relay Run will take place on November 9th beginning at 9 a.m. A post-run celebration for the entire public is scheduled to take place that same afternoon from 4-5 p.m. For more information visit www.flower-mound.com.
The Highland Village Business Association (HVBA) is hosting the 15th annual Salute Our Veterans Luncheon also on November 9th at the Hilton Garden Inn in Lewisville at 11 a.m. This spectacular event is free for vets and one guest and $20 per person for general attendees. Please visit thehvba.com for details.
The nonprofit Women Veterans of America Denton Chapter #48 is having a very special event at Pinewood Hills senior living community in Flower Mound to support their mission of advocating for female veterans and all women serving in the armed forces on November 8th. This western themed event from 6:30 -8:30 p.m. includes food, music, a silent auction and a guaranteed good time. Tickets are just $20. To learn more, please visit wvachapter48.com.
While I am thankful that Veterans Day brings our nation together to remember those who have fought for us, we must remember that our thoughts and prayers for veterans cannot be limited to a single day or event. So please pray for our troops, veterans and their families every chance you get.  And never pass up the opportunity to say thank you to someone who has answered that call to serve our country and protect your freedom.
As always, it is an honor to serve you in the Texas House of Representatives. If you would like to share a thought, please feel free to contact me at my Capitol office of 512.463.0688 or email at [email protected].