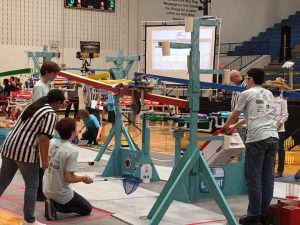 By Mark Miller
It's amazing what almost two-dozen smart local youth can accomplish when they put their brains together.
Take the group T.E.A.C.H. (Texas Association of Catholic Home Schoolers), for example. For more than two decades its members have annually created robots focused on themes selected by a national organization– known as BEST (Boosting. Engineering, Science and Technology)– for public and private high school and home-school students.
T.E.A.C.H. Robotics members meet twice-a-week for six-weeks each fall to prepare their robots for the annual competition.
This year, the focus was on current events. The team had to design and construct a robot that could travel along a 4-inch by 4-inch beam suspended in the air, using a claw to grab bottles, golf balls and soup cans to drop onto a box. It also had to pick up little turtles to depict saving wildlife.
The group also had to develop a name and marketing booth promoting the team plus its outreach for this year's competition held Oct. 26 and 27 in Arlington.
"There's so much in addition to doing the robot," said Highland Village's Isabel Cobb, the team's chief executive officer. "If people love public speaking you can come and do the presentation. If you're good in engineering you can help build the robot. Or you can do programming for the robot, if you like working online and with software.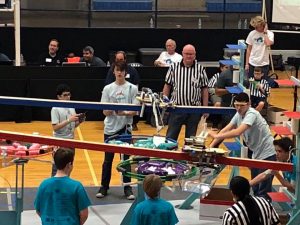 "We have lots of creative people, like my sister– who doesn't know a thing about electronics– but is good at painting signs to show team spirit, which goes in the booth. Anybody can come and find something they like to do."
The robot had to fit within a 2-foot by 2-foot by 2-foot box, could not weigh more than 24-pounds and had to use parts from a designated list, plus two team custom parts. Past themes have included firefighting in 2017, farming in 2016 and mining in 2015.
This year, the 18-year-old Cobb and her fellow student leaders worked with other home-schoolers, aged 10 to18-years. Her mother, Kirsten with fellow parent Kirsti Anderson, served as coaches, while several others helped as mentors; but, were not allowed to touch the project.
Cobb, whose family moved to North Texas from Albuquerque, New Mexico, in 2014, said working on the project has taught her and fellow students valuable people-skills, such as how to deal and get along with other people. Plus, they find out what works and what doesn't work when building the robot.
The team finished in sixth-place of 19 teams, it fell short of its goal of advancing to the upcoming Regional in Frisco next month. Despite that, Cobb said she wouldn't trade the experience for anything.
"This whole experience … there's so much to learn and I'm still learning things," Cobb said. "It all happens in fast time and you want it to be done, but when it's over you are like, 'I miss the friends and the bonds we've created and not seeing everyone every week.'"
More information about T.E.A.C.H. Robotics can be found at: teachrobotics.org.