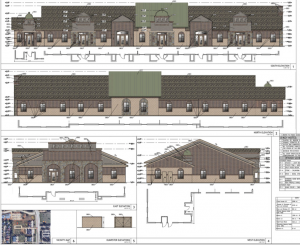 Ever since the custom home building market dried up in the early 2000s, Cliff Hodge has been in the business of building, managing and selling properties focused on businesses in Flower Mound. His latest venture will soon be open for occupancy.
The fourth of five office-medical condominium buildings in the Westside Professional Center– across from and just south of Texas Health Presbyterian Hospital-Flower Mound– is slated to host its first tenant by the start of 2019.
The building features just under 16,000-square-feet of space, with eight suites of 1,469- to 2,874-square-feet each. Five tenants already have signed pre-lease agreements: Edward Jones Investments; psychiatrist Dr. Asad Islam; Moonbeambaby.com; general practitioner Dr. Padma Munukuti; and, a hearing center.
The 69-year-old Hodge and wife, Sheila, built nine of the 11 buildings around Corporate Circle, opened their first Westside Professional Center in 2012, the second in 2014 and the third in 2016. They hope to break ground next year on building No. 5, which will feature 8,450-square-feet of office condominiums.
"We're not big time buying and holding," said Hodge, who was responsible for seven of the nine buildings along Windsor Drive and FM 2499. "When we're done, we try to go ahead and get it moving, so the taxes don't eat you up. We want to finish this one while the market's good and finish the other while the market's good, before we have one of those crashes. If I can get seven-to-eight tenants in here and keep six-to-seven, we'll have money coming back."
Hodge and Shelia, who grew up in Carrollton, moved to Lewisville in the early 1970s, then Flower Mound in the late 1989s, own a holding company called Today 2499 LP; and, a leasing firm called Cliff Hodge and Associates, Inc.
Cliff started building custom homes in 1983. Around 2000, he and a partner acquired 28-acres east of FM 2499 and south of the hospital, that eventually became Corporate Circle. That allowed him to keep many of his previous trades' contractors working steadily.
"We've done more building on 2499 probably than anyone," Hodge said. "We're just a mom and pop doing one building or so at a time. I manage four of the buildings I've sold, so what I do is the leasing for them, remodeling and maintenance. I'm Johnny on-the-spot.
"Like everything else, you keep the landlord happy by keeping everything fully leased. Some of our landlords are from out of the country. When they come in, as long as we're fully leased, they are happy."
One thing the Hodges' learned quickly, was professional buildings required the installation of fire and sprinkler systems and parking lots; things that aren't required when building homes.
Thankfully, they have a team of experts to help them work through those commercial details. They include architect Peter Brown with ID Studio 4, broker Russ Webb of Silver Oak Commercial Realty and son Chad, who serves as their on-site project superintendent.