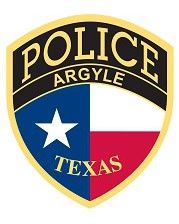 The following is a summary of incident reports recently made to the Argyle Police Department as compiled by the staff of The CTG:
On Aug. 29 at 10:24 a.m., a resident on East Pioneer Circle reported seeing a man walking around her house and in her backyard. Turns out it was a lawn care professional servicing the wrong house.
On Sept. 3 at 4:49 p.m., someone called police for a drive-by honking; a car drove up and down Stonecrest Road, honked at them and then drove away.
On Sept. 7 at 5:45 p.m., a man reported that while he was driving south on I-35W in Argyle, another driver in a pickup rolled down his window and pulled out a handgun, but didn't point it at him, and then exited the interstate. The caller took a picture of the suspect's vehicle and gave it to police.
On Sept. 14 at 8:57 a.m., an officer stopped to assist a driver that was pulled over in the 400 block of South Hwy 377. The driver had run out of gas, but had a gas can. The officer drove to a gas station and got her some gas.
On Sept. 18 at 4:31 p.m., someone called police because a bag was in the road in the 300 block of North Hwy 377.
On Sept. 20 at 2:42 p.m., a woman called police because the driver behind her was harassing her about stopping at a stop sign.
On Sept. 21 at 9:18 a.m., an officer noticed water coming down the driveway of a home on Crawford Road and notified the homeowner that the sprinkler system was stuck on.
On Sept. 23 at 3:21 a.m., someone called police after seeing two kids TP'ing a house near the Country Lakes community swimming pool on Country Lakes Boulevard. The responding officer found a house with toilet paper in the tree, on the ground and in bushes, and there were also forks stuck in the ground and a grim reaper statue in front of the house.
On Sept. 24 at 6:03 p.m., a Canyon Falls resident called to complain about a truck that parks near an intersection in the neighborhood. She was informed that the location is not in Argyle.
On Sept. 26 at 9:15 p.m., a resident on Manor Drive reported that she heard a loud noise, so she went outside and saw a man hiding in the bushes in front of her house. The man tried to say something to her but she went back inside and locked the door. She watched through the window and saw the man run to the road, get in a vehicle and drive away.