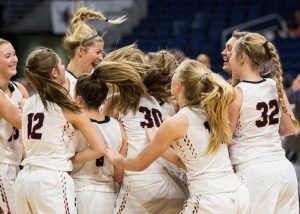 Basketball season has arrived and the schools of southern Denton County are full of talented female athletes looking to make their mark in 2018-19.
Four of the six girls' area programs in the region reached the post-season in 2017-18– including three district champions. Judging by the way things are shaping up so far, it could be more of the same this season.
In Argyle, the Lady Eagles had the best season of the Southern Denton County schools in 2017-18; finishing 34-7 and winning a State Championship.
Coach Chance Westmoreland said his team has had some challenges early on, but added that he is excited at the Lady Eagles prospects.
"Things are shaping up really well for our team," Westmoreland said. "We did well in a couple of tournaments over the summer and have worked really hard this fall.  We have a good nucleus of returning starters, role players and JV players [who moved up] from last year. The team is focused on continuing the success we have experienced the last few years."
The team did suffer a major setback this summer when Sydney Standifer tore her ACL and will be out for the season, but Westmoreland said he expects other players to step up.
"Juniors Rhyle McKinney and Brooklyn Carl both started last year and will be expected to lead our team this year," Westmoreland said. "Senior Kennedy Reaves started some games last year and has really played well in the fall."
Westmoreland added he also expects big seasons from Abby Williams, Maggie Adams and Grace Freeman this year, plus junior varsity move-ups Rachel Fields, Kallyn Mills and Bailey Teams are all expected to contribute.
"Our season expectations are very high," the coach said. "We were able to play really good basketball during the second half of District and throughout the playoffs to help us win the State Championship.  We move to a new [UIL] district and Region 1, but I feel like we have the players in our program to be in the mix as one of the better teams in the state."
Over in Flower Mound, the Lady Jaguars wrapped up the 2017-18 season with a record of 23-10 and coach Sherika Nelson– last season's Co-Coach of the Year recipient in UIL 5-6A- said she is impressed with how her team is beginning to gel.
"We have had a really good pre-season," Nelson said. "Our kids are working hard and staying focused on the little details. We have a great mixture of senior leadership and solid youth that will make us competitors every night on the floor. We are ready to get things rolling officially and are excited about what this season holds."
Flower Mound finished 12-2 in District last season and won the 5-6A championship. Nelson said she believes she has the personnel to have another strong effort.
"I think night-in and night-out, we have a lot of different players that could step up and play big minutes for us," Nelson said. "Our returning varsity players from last year– Makenzie Schott, Kayla Wallace, Kaitlyn Broussard, Whitney Cox, Rian Becker and Ella Schindler– will all be key leaders for us this year. They know what it takes daily in order to have a shot at post-season play."
Cox was a first-team All-District selection in 2017-18 and Schott was Honorable Mention All-District.
The Lady Jags lost to Cedar Hill in the area round of the playoffs last season and are looking to advance even further in 2018-19.
"Success for us is playing full and leaving empty every time we are on the floor," Nelson said. "We believe if we focus and take care of the small details and play with full effort and heart, we can accept the outcome.  We pride ourselves in being gritty and fighting to the end. Success to us is battling in the District race and finding ourselves back in the playoffs."
Across town at Marcus High School, the Lady Marauders just missed a playoff berth in 2017-18; finishing 6-8 in the UIL 5-6A competition and fifth place in the District standings.
Coach Jordan Davis said 2018-19 looks promising because her team is showing a lot of spunk.
"We have a hard working, energetic group of young ladies that we are excited about as a staff," Davis said. "They bring energy and effort each day and that is great to have in practice."
The Lady Marauders wrapped up last season with a 15-18 overall record and have a couple of players they expect to lead the way this season.
"I think we could have a few players step up and be leaders this year," Davis said. "Some players that have been consistent so far this year are Evie Goetz and Bailey Roden. They work hard and encourage their teammates daily."
Goetz was the Co-Newcomer of the Year player last season in district 5-6A and Roden was an All-District selection.
Davis said Marcus is focused on steady improvement and consistent effort in 2018-19.
"Our team has come up with a couple of goals for the season and they are working hard to achieve those," Davis said. "Success will be determined by getting better each-and-every day in pursuit of those goals."
At Coram Deo Academy, the Lady Lions are coming off a 27-8 record last season and a District Championship.
"This year is shaping up nicely for us," said Coach Harrison Eaddy. "We have a hole to fill with our all-time leading scorer (Emma Dwyer) graduating. With the returning players that we have, I feel confident we will have another successful season. Our student athletes' work ethic has increased each season."
Eaddy would not say which individual player he believed would stand out this season, but said he had several players he expected to lead the way for Coram Deo.
"We have a solid group of juniors and seniors that are ready to compete," Eaddy said.
He added that a successful season "will be defined by us playing to our maximum potential each game and practice."
For the Denton Guyer girl's basketball team, a fifth-place finish in District last season has the Lady Wildcats anxious to claim one of the top four spots in 2018-19; and, coach Aimee Kilgore said she believes she has the team to do it.
"We have four returners and two are All-District picks from one of the toughest districts in the state," Kilgore said. "We have some youth, but great team chemistry. We had a great off-season and pre-season and we're looking forward to the 2018 season."
Kilgore said that she has a number of players she expects to make an impact this year, including All-District selection and four-year letterman Callie Boyles– who provides a "long presence" inside and is a good inside and outside shooter– along with last year's Newcomer of the Year, Jade Thompson, whom Kilgore describes as "strong, explosive and athletic."
The Guyer coach added she also expects big seasons from Bella Earle, Morgan Helgesen and Alisa Williams.
"We want to win the games we are supposed to win, continue to grow as a unit and to develop our first-year varsity players," Kilgore said.
Guyer was 15-17 overall last season.
Heading south to Liberty Christian, the Lady Warriors finished 28-12 last season and advanced to the regional finals.
Coach Ken Burroughs said he is confident his team will compete for a playoff spot in 2018-19, but said that the most important objectives have nothing to do with win-loss records or playoffs.
"A successful season will be for us to love one another, serve one another and put your teammates before yourself," Burroughs said.
Liberty finished 9-7 in district competition and a fourth-place finish last season. The team has six returning lettermen and three starters.