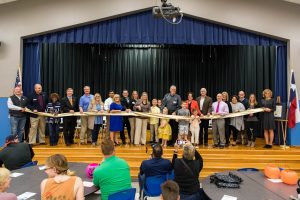 Lewisville ISD celebrated the opening of the district's first STEM Academy with a ribbon-cutting ceremony at the Flower Mound school last week.
The new STEM Academy at Donald Elementary School, 2400 Forest Vista Drive in Flower Mound, held the event on Friday, featuring a surprise video from the NASA Johnson Space Center's Acting Director Michael Hess and a performance by Donald Drumming students, according to a LISD news release. LISD Superintendent Dr. Kevin Rogers, LISD Board President Angie Cox, Donald Principal Dr. Michelle Wooten and Donald Student Council President Jack Wlazlowski all spoke at the event.
Wooten also shared a special presentation of a star she purchased in the Orion Constellation to commemorate the beginning of their STEM journey, according to the district. The star's coordinates are RA 5h37m1.59s dec -1°11'44.2″.
Donald Elementary is the first elementary school in Texas and fourth in the country to earn STEM campus certification.
At the LISD STEM Academy, students will learn all of the foundational curriculum as in other schools including physical education, art and music, but they will also receive engineering instruction every day and project-based learning experiences, according to the school district's website. To experience this program, students will be required to transfer from their home campus to Donald Elementary.
STEM practices will be integrated into all of the core content areas of Language Arts, Math, Science and Social Studies, as well as special areas such as physical education, art and music. In addition, students will experience additional instruction in engineering, robotics, computer programming, and career exploration. There are two major differences between a STEM Academy campus and a non-STEM Academy Campus, according to the district website:
STEM Academy campuses will provide instruction in engineering every day for every student
STEM Academy campuses will integrate STEM practices into all instructional areas creating an integrated STEM program that students will experience all day long