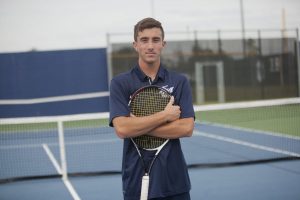 Flower Mound teen Cale Balusek was born at Baylor hospital in Grapevine 10-weeks before his due date, weighing only 2.5-pounds and, like most premature babies, had several health issues.
He had two holes in his heart, his thyroid didn't work, he developed chronic lung disease and needed the hospital's help to eat and get enough oxygen in his blood. His twin brother, Caden, had died at 26 weeks.
After about two months in the Baylor Scott & White Health hospitals in Grapevine, Garland and Irving, his parents, Steve and Tonya, were able to bring him home. Steve said the holes in Cale's heart healed, his thyroid issue went away when he was about three-years-old and his asthma has gotten better.
Now a 17-year-old junior at Flower Mound High School, Balusek has grown into a healthy, athletic teenager. He can usually be found on a tennis court.
Last year, he organized and hosted the first Love Babies Tennis Tournament to support the hospital where he was born.
"I first thought about how I was born; how the doctors and nurses saved my life," Balusek said last year. "I want to pay them back through a tennis tournament."
After a successful inaugural event in 2017, Balusek is aiming higher this year with his Love Babies Tennis Tournament this month to raise money for Baylor Scott & White Health hospitals.
"Last year, we surpassed our goal by a long shot," Balusek said. "That gave us a lot more confidence for this coming year. We're shooting for a much larger goal of $10,000."
The funds raised last year were used to purchase special X-ray equipment designed to take images of newborns, without having to wake or move them. Balusek said it was an "amazing feeling" to receive so much community support and surpass his fundraising goal.
"It shows I'm not the only one fighting this battle," he said. "It gives me a sense of hope and motivates me to continue to do what I'm doing."
There will be several changes from to last year's event.
Instead of having the event on one day in two separate locations, the upcoming tournament will be held on three different days at one site– the Wagon Wheel Tennis Center in Coppell.
On Monday, Nov. 26, is the women's 3.5-level doubles tournament.
On Tuesday, Nov. 27, is the women's 3.0- and 4.0-levels doubles tournament.
On Saturday, Dec. 1, the youth tournament will be held.
Balusek said Love Babies T-shirts are also available for sale, whether you participate in the tournament or not. The tournament is also now a 501 (c)(3) nonprofit, which he said will allow more money to go to the hospital.
For more information and to register, visit lovebabiestennis.com.