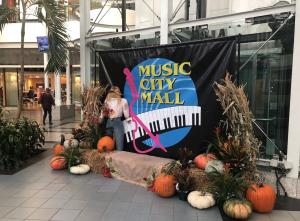 The Music City Mall in Lewisville is offering local residents a free, rain-proof alternative to outdoor trick-or-treating on Wednesday evening.
The National Weather Service forecast calls for a substantial rain system to move through North Texas during the day on Wednesday into the evening, but it isn't clear when the wet weather will move out of Denton County. If the rain continues during prime trick-or-treating hours, at least local residents have a rain-proof alternative close by for the kiddos to don their costumes and enjoy some trick-or-treating.
Music City Mall Lewisville, 2401 South Stemmons Freeway, is hosting "Malloween" trick-or-treat event from 6-8 p.m. Wednesday, according to a mall news release. About 100 vendors will be participating with free candy — while supplies last — and Marshal from Paw Patrol and the Great American Cookie mascot will be on-hand for photos with the kids. There will also be cotton candy, snow cones, glitter tattoos, balloons and crafts.