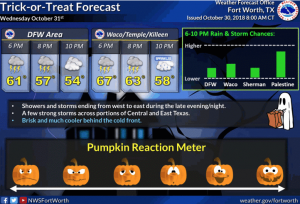 The National Weather Service is calling for showers and storms to move through North Texas on Tuesday night and during the day Wednesday, likely making for wet trick-or-treating hours.
A cold front will pass over Dallas-Fort Worth during the overnight hours, bringing some showers and storms through Wednesday morning. There will be a threat for strong to severe storms, heavy rain and flooding, according to the weather service.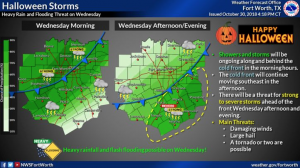 The trick-or-treat forecast is unclear. As the wet weather moves through Denton County from the west to east throughout the day, it is expected to clear up on Wednesday night, but that may not happen before the ideal trick-or-treating hours for young kids. It will also be much cooler after the cold front passes, with a forecast temperature of 61 degrees at 6 p.m. in DFW and 54 degrees at 10 p.m.
Keep an eye on the forecast during the day Wednesday as meteorologists get a better idea of the timing of the weather drying up.