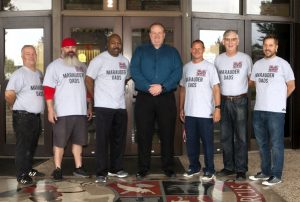 Drop by Marcus High School in Flower Mound before classes start on a Friday and you will notice a lot of happy students entering both the ninth-grade and main campus buildings.
"Good morning," said Michael McCarthy to the first students who approached him one late September morning.  "Have some sugar, it will put a smile on your face. You guys have a good day."
"Happy Friday," Rick Condra greets others. "We've got breakfast right here for you.  Have a good one."
McCarthy and Condra are two of the Marauder Dads group, which started giving out candy at the ninth-grade campus last year.
This academic year, the Marauder Dads expanded to the two Marcus High School buildings on the first day of school and has continued every Friday since then. If school is out on Friday, the Marauder Dads will be there on Thursdays when they also will remind students to wear their school badges.
The program was the brainchild of Kyle Green– an assistant principal at the Marcus ninth-grade campus– with help from McCarthy. The idea spread throughout the two high school campuses and is catching the eye of other dads, at other Lewisville ISD campuses, who may launch their own programs in the near future.
"I had seen some similar programs, at other schools, and had been doing quite a bit of reading from different studies [about] what makes schools better; what helps kids," Green explained. "One of the overall things I saw, is [that] educationally and behaviorally, the more involvement by male figures– whether it's dads or a mentor– that overall male-involvement helps kids in all areas.
"In figuring how can we bring something to the school, I didn't want to make it something that's overly time-consuming– and allow people to help out– so we came up with this program to bring them in for 30-minutes to an hour once a week. It's really gone well. The question now is, why wouldn't you do it?"
Green and four- to six-dads station themselves at the front and back entrances of each building, each week, from approximately 7:30 a.m., until the second bell rings at 8:20 a.m., indicating the start of the first class.
"I had one kid this morning, as I was setting up, say 'this is the best school ever,'" Green said. "I'm not going to argue if it keeps them here and keeps them excited. That's what's important.
"We hope to keep it going, year-after-year. As the kids move up, the dads will move up with them to keep replenishing it."
"It's really cool, because you'll see them kind of moping and they see us and their smiles come up," Condra said. "They kind of get a bounce in their step and it changes their whole day.
"Last year near the end of the year they'd get off the bus and say 'yes, it's Friday.'"
The candy is donated by business owners – members of the Flower Mound and Lewisville Chambers of Commerce and Flower Mound Rotary Club. The Flower Mound Chamber Ambassadors even designated one day for members to bring candy to help the cause. And, this year, the Marauder Dads even have their own special T-shirts and badges.
"I think this program's been very successful," Condra added. "It's kind of neat, where I'll be out at
Walmart or something and someone will recognize me because they've seen me here [at Marcus].
"Having a male presence is really important, I think. The kids have been very, very receptive to everything. I've been amazed at how polite they are."
This year another dad– Mike Daigle– brings apples and bananas, while Karl Hayes supplies apples and Clementine oranges. Hayes– a retired police officer– moved here two years ago from Long Island, New York, and has children in both ninth and 10th grades.
"It's really a great, great program," Hayes said. "It might be their only interaction with an adult who is not a power figure like a parent or teacher."