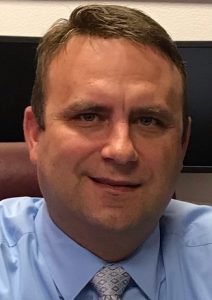 Two things have always been important to Jim Bridges – owning his own business and doing something to help his community.
Since opening his State Farm agency in Bartonville Town Center in 2011 and serving on the FWSD Safety Committee and Lantana Community Association's Advisory Committee before being elected to the HOA Board of Directors two years ago, he's had the chance to do both.
"Growing up, my grandfather had a sporting goods store and it was always my dream to have my own business," said the 38-year-old Bridges who lives in the Magnolia subdivision. "I didn't know what type of business but that's what I wanted to do when I grew up. Insurance kind of found me."
Bridges and wife Morgan moved to Lantana when second child Jake was age 1. He's now 8, while big sister Katelyn is 11; and sister Cary Grace is 4. They previously lived in his native Mansfield where he had worked for a family friend and fellow State Farm agent since 2008.
The two met in Charlotte, North Carolina, where he attended Queens University after transferring there with a men's formal wear store. When that company closed, he moved back to Texas where he finished his Bachelor's degree in Marketing at Texas Wesleyan University in Fort Worth, in 2004 and married soon thereafter. He worked for a staffing agency for a couple of years before joining State Farm.
They chose Lantana because of its small-town community atmosphere. Shortly after taking up residence, he ran for the Fresh Water Supply District board and as he put it "failed miserably."
"I think my wife and best friend were the only two people who voted for me," he said. "But from there I was asked to be part of the Safety Committee (in 2012) and wanted to be involved somehow and give back to my community. I did that until (Community Manager) Mark (Norton) approached me (in 2014) about being on the advisory board. So I found a spot to give back to the community through the HOA."
Serving on the advisory committee provided Bridges with a quick education on how the community operated which helped him even more on the board. He said what the advisory committee recommends the board normally approves, often unanimously.
"The first part of it was I was just there to learn. What are the protocols? Why do we do what we do and how does it work?" he said. "You try to study how something of this magnitude plays out. It's a lot bigger operation than I think a lot of people realize. It's a really big operation.
"If I was asked to give my input I would give it but I was more curious about the inner workings of the HOA."
Bridges found the planning involved to make things happen in the community to be most intriguing.
"Take the gym equipment," he said. "Everything has had a study and everything has a life span that we have budgeted out for so many years you have to replace equipment. Just the thought that's put into it blew my mind. Having reserve funds set aside that the developer put into place for the long-term health of the community."
Having that information in mind is helpful when votes arise on various issues.
"Knowing we have this strategic long-term plan for all of that gives me confidence in our decisions," he said.
Bridges learned from problems at his grandfather's HOA that when people join the board for the wrong reasons, an entire community can be ruined.
"One reason I've been passionate about this, is I didn't come in with an agenda to come in and change things. I came in with an agenda on 'how do we keep this community going in the right direction,'" he said.
"One of my biggest fears is if you get two or three people on an HOA board and they have a certain agenda, they can screw this up in a hurry. My feeling is that the HOA board is about one thing – how do you keep this community that we all love great. That's the whole reason to be on an HOA board."
Having amenities like hike and bike trails, tennis courts, swimming pools and the new basketball court is one reason Bridges feels people choose to live in Lantana. But with only about 20-25 percent of residents using them, something more was needed. That's why he's so excited about the new community lifestyle program and community center set to begin construction soon and open next year.
The center on the north side of Lantana will host events ranging from playdates for moms with toddlers to senior citizen lunches to daddy-daughter dances and more. Bridges said it will target a broader range of residents with fun things they can enjoy.
"Every community has a swimming pool but a lot of people have their own swimming pools so to create something to appeal to all the different demographics in our community, that's the future of master planned communities in my opinion."