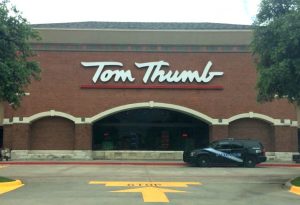 On Friday, it was announced that the 22-year-old Tom Thumb grocery store at 2600 Flower Mound Road, located on the northeast corner of FM 3040 and FM 2499 adjacent to The Mound will be closing soon.
The parent company, Albertsons Companies, based in Boise, Idaho, included the southern Flower Mound store as one four stores in North Texas, it has decided to close.
According to a letter from Doug Campbell, vice president of Merchandising and Marketing for the Southern Division of the Albertsons Companies, the pharmacy departments will close before the grocery store's closings on or around Dec. 1.
"As we all know, it is sometimes necessary to make difficult decisions to ultimately allow our division to become stronger," Campbell wrote in the letter. "In a necessary step, towards a healthier Southern Division, and after intensive analysis, the decision to close the [Flower Mound] store was made.  We will begin to sell down our inventory immediately."
Tom Thumb has three other stores in Flower Mound.