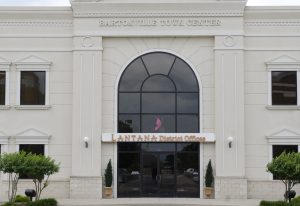 Lantana community news briefs compiled by The Cross Timbers Gazette.
Boards Approve Budgets, Set Tax Rates
The two Fresh Water Supply District boards in September approved their respective 2018-19 fiscal year budgets.
Expected revenues for FWSD #6 and #7 for the 12 month period that starts Oct. 1 are $12.4 million and combined expenses are budgeted at $10 million, with more than half of the expenses consisting of municipal bond payments.
The budget contains a 4-percent increase for personnel expenses. The districts currently employ nine full-time employees. An additional employee was approved in the new budget to work in the water/wastewater department.
The boards also approved a $1 per month water service base rate increase and a $1 per month wastewater base rate increase effective Oct. 1 to cover the increase passed on by the Upper Trinity Regional Water District.
The property tax rate in FWSD #6 remained unchanged at 95 cents per $100 of assessed value. FWSD #7 officials lowered its property tax rate by 5 cents, to 95 cents per $100.
Sidewalk Repair Policy Amended
The Fresh Water Supply District boards recently entered into a 10-year agreement with the Lantana Community Association to repair sidewalk damage caused by trees located in the districts' right-of-way between the street and sidewalk.
In August, the boards worked out an arrangement with the HOA whereby the FWSD will repair the sidewalk and the HOA will replace the tree, if necessary. No additional costs would be passed on to the homeowner.
In the past, Lantana would foot the entire bill for sidewalk repairs that constitute a tripping hazard unless the damage was caused by a street tree, in which case it would be the homeowner's financial responsibility.
A tripping hazard is defined as a vertical change of over one inch at any joint or crack, according to Lantana General Manager Kevin Mercer.
Once a year, Lantana contracts with a paving company to perform concrete repairs on roads and sidewalks within the community. A typical sidewalk repair job costs the district between $300 and $400 per five-foot panel.
Residents can report sidewalk hazards by calling 940-728-5050 or emailing [email protected]
Development Watch
Lantana had 3,674 occupied homes as of October 1 with an estimated population of 11,941.
There were 2,096 single-family building permits issued in Fresh Water Supply District #6 and 1,745 permits issued in Fresh Water Supply District #7 for single-family homes through the month of August, for a total of 3,841 permits. Total build-out is estimated to be 4,003 homes.
Chase Bank and Firestone Auto Care are open in Lantana Town Center. Only one additional pad site remains on the Kroger side of FM 407, at the corner of Jeter and FM 407.
Shellman's Fine Wine & Spirits will open a second location in Lantana Town Center Phase II on the north side of FM 407 in February 2019. Jim Shellman of Lantana opened his first location on FM 407 in Highland Village in May 2006.
Casa Mia Mexican Restaurant & Bar is expected to open this month in Lantana Town Center Phase II.  Bank of America is building a completely automated teller-less branch in the center, where customers can use ATMs and conduct video conferences with offsite bank employees.
Crime Watch
by Denton County Sheriff Tracy Murphree
Lantana had 176 calls for service in September. The Denton County Sheriff's Office responded to 29 alarm calls, 48 related traffic calls, and 42 self-initiated calls for service. Thank you for being our extra Eyes & Ears, if you see something say something.
Denton County is home to more than 800,000 people; it is 953 square-miles and is ranked ninth by population in Texas. Denton County will only grow and with growth comes unwanted crime. One of the Sheriff's biggest responsibility is the jail. The Denton County jail has 1788 beds and currently houses 1236 inmates. The majority of our employees are Detention Officers who do a remarkable job of supervising, and caring for inmates on a daily basis 24 hours per day, 7 days a week.
I am very fortunate to have Assistant Chief Deputy Barry Caver supervise the everyday operations of Denton County jail. Chief Caver is responsible for five (5) Detention Captains, seven (7) Detention Lieutenants, nineteen (19) Detention Sergeants, (41) Detention Corporals, and (329) Detention Officers, along with (24) other civilian employees plus all inmates.
Within our detention facility, we house a wide variety of inmates. Our Detention Officers are trained to protect themselves and the inmates. Some of our Detention Officers are a part of the Special Operations Response Team, or SORT. They have specialized training in dealing with abusive inmates. Not all who apply are accepted, the physical and mental challenges are strenuous. The men and women on the team are prepared to handle all types of situations.
Detention Officers are the backbone and unsung heroes of the Sheriff's Office. They do a difficult job very well every day. I am proud of the men and women who have dedicated themselves to serve.
Denton County Sheriff's Office is currently hiring Detention Officers. Please pass the word and have interested parties visit the Denton County website at dentoncounty.com to apply.