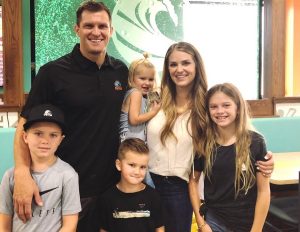 Transforming a former bank into Flower Mound's newest Mexican restaurant was the challenge facing Kyle Anderson, when he opened Costa Vida on FM 2499 in August.
Anderson brought his love for the Utah-based franchise with him, after cutting his entrepreneurial-teeth at McDonald's and Five Guys restaurants.
But, this is not like other places serving similar dishes. First, a team of five-to-eight people makes every menu item from scratch each day. Then, there's the unique rewards program in which downloading its application nets customers $4 toward future purchases; and, for every 50-points after that ($1 per point), they earn another $4.
"There's not one item in our place that's put back [pre-prepared],' said Anderson. "We don't have a freezer; only a walk-in.  The challenge of this restaurant is, there's so much back [preparation] work that's labor intensive, that we're hoping– if we can get it in the mouths of people– they will respond. We think they will."
This is Anderson's first restaurant in a strip mall and only the seventh in the 100-franchises nationwide chain with a drive-through window.
His staff is led by manager Shannon Sanchez– the first employee he hired at Five Guys as operations manager for his locations in Southern California– and her husband, Pono.
Anderson, 35, likes Flower Mound for its sense of community and opportunity to become involved in the chamber of commerce, things he doesn't have in California.
"I love being involved and doing things in the community," said Anderson. "It's a much better opportunity for us that way. I told my wife I can't yell at any of my kids' games anymore, because if I yell at a referee or a parent, they might be a customer."
While Anderson originally followed his family's career history in dentistry and orthodontics, it was while serving a two-year mission for the Church of Latter Day Saints in a Spanish-speaking section of Sacramento that changed his path.
Figuring he could use his new language-skills better in the restaurant field– and after marrying wife Amy– he joined her family in owning several McDonald's restaurants in the Provo, Utah, area for three years.
When the Inland Empire area of Southern California opened up with Five Guys, he jumped at the chance. After eventually owning eight locations, he sold four to buy into Costa Vista. With much of his family now living in North Texas and the territory available, he, Amy and their four young children followed.
Costa Vida is located at 2628 Long Prairie Rd #110, Flower Mound, TX 75022.