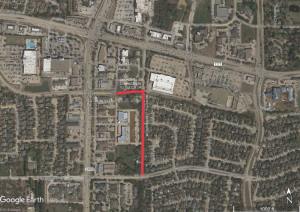 Construction crews will soon begin to extend Churchill Drive and reconstruct Yucca Drive in Flower Mound.
The project will begin Monday to extend Churchill Drive 400 feet to the east to connect to Yucca Drive, near the Kohl's on FM 1171, according to the town of Flower Mound's website. The new Churchill section will include a 4-foot-wide sidewalk on the south side and an 8-foot-wide sidewalk on the north side.
Crews will also be reconstructing Yucca Drive, starting just south of Kohl's and extending south to the Sagebrush Drive intersection. The existing narrow asphalt section of Yucca Drive will be replaced with a standard width, 2-lane concrete curb-and-gutter roadway with a 4-foot wide sidewalk along the west side and an 8-foot wide sidewalk along the east side, according to a town news release.
The project is expected to be complete in November 2019.
For more information about this project, email Senior Project Engineer Brent Anderson or click here for updates on this project and other road construction.