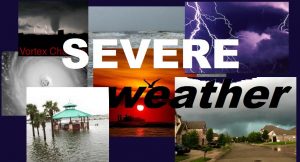 This week will start out stormy and end with fall-like temperatures.
Heavy downpours will accompany scattered storms on Monday, which may result in minor flooding in Denton County.
A complex of thunderstorms with heavy rain will move across Denton County on Tuesday, forecasters said.  Rainfall amounts of 2 to 3 inches will be possible.
Damaging winds and localized flooding will be the primary hazards in storms on Tuesday, but supercells could also occur, with a hail and tornado threat.
High temperatures on Monday and Tuesday will be in the low 80's but will slowly cool down into the 70's and even the 60's by this weekend. Lows could be in the mid-50's by Thursday morning.
Check the latest weather forecast here.