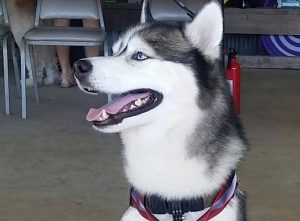 Attention all tail-waggers– the first Saturday in October marks the 25th Anniversary of Dog Days of Denton.
Dog Days of Denton is the original event for pooches and their people. The event has become a model for cities everywhere, but holds the distinction of being the first of its kind in Texas. The free event is fun for the entire family, including the four-legged members.
The fun kicks off with a Pet Parade through the grounds at the North Texas Fairgrounds.at 9 a.m. on Saturday, Oct. 6. The parade route will be marked with banners for each of the 25 years depicting each year's Spokesdog; and, some pop-trivia– based on what was happening in the world at the time.
New for 2018 is the "Meet The Rescue" session, where each rescue group present will give a brief presentation on their organization and how it meets its mission.
Also, the 2018 event will bring back The Great Barkini, Paw Reader Extraordinaire, who will be foretelling your best friend's future by reading their paws throughout the day.
All the favorite contests will be back: Dog Singing; Dancing With Your Dog; Pet Tricks; and, How Obedient is your Dog?
Of course, everyone's favorite– the Spokesdog Contest– with the lucky pup selected Spokesdog will represent Denton and Dog Days throughout the coming year. Prior registration is required for this event only– all other events are open to all. Visit www.dentondogdays.com for complete instructions for entering.
The Glamfur Booth will back to take photos of your best friend in (or out) of costume for a $5 fee. Zoom Room will also be there with their agility course. For a $5 donation you can try your dog's agility at the course with the assistance of the Zoom Room staff and volunteers.
All donations collected from the Agility Course will be donated to Heel The Heroes to further its mission of providing Therapy Dogs for returning Veterans.
Heel The Heroes founder Lyndon Villone will be on hand to give a presentation on his program and why it is so important and will conduct a mini workshop to demonstrate the procedure in training a Therapy Dog.
Other presentations include Dr. Kyle Jones from Southridge Animal Hospital– who will discuss the importance of oral health in your pet– and Pamela Flint with the UNT Animal Assisted Therapy Program will discuss how UNT is using Therapy Dogs to get students through the stressful times in their lives.
The Dog Days information booth will be selling commemorative event shirts and accepting donations (dog food, bedding, towels, etc.) for the Linda McNatt Animal Shelter.
For more information, including the full event schedule, please visit our website or contact Executive Director Kevin Lechler at [email protected].