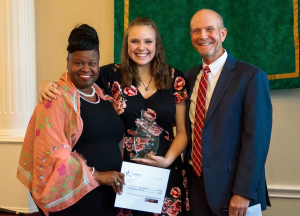 A Marcus High School student was recently presented a special award by representatives from The Leukemia & Lymphoma Society of North Texas.
Keely Campbell, a junior at Marcus and a youth deacon at Trinity Presbyterian Church of Flower Mound, earned the award when she raised the most funds, $59,570 in a 7-week period, as part of LLS's 2018 Student of the Year campaign this past spring, according to a LLS news release. A national research grant for non-Hodgkins lymphoma was named in memory of Keely's father, Dr. Douglas M. Campbell, and Keely was awarded a $5,000 college scholarship.
"I am grateful, humbled and thrilled to have been able to participate in the Student of the Year campaign in my dad's memory," Keely said tearfully after receiving the the award at Trinity Presbyterian Church on Sunday. "I learned so much through this process and could not have done it without a lot of support from so many."
Keely's family has supported LLS since her dad was first diagnosed with an incurable form of lymphoma in February 2000. Her dad lost his battle in September 2015 when Keely was 13 years old, but the family continues to fight for cures, according to the news release. Keely felt the Student of the Year campaign would be a fitting way to honor her father's memory.
"We are proud of the legacy that Keely has continued under her leadership as the 2018 Student of the Year," said Emile Blaine, senior campaign director of LLS of North Texas. "The Campbells are a part of The Leukemia & Lymphoma Society's family. With this research grant link, Dr. Doug Campbell's name and memory continue on."
Students of the Year is a philanthropic leadership development program for exemplary high school students by LLS. During the campaign, participants foster professional skills such as entrepreneurship, marketing, and project management in order to raise funds for LLS. The title, Student of the Year, is awarded to the candidate or co-candidates in each community that raise the most funds during the 7-week competition. To find out more, click here. Nominations for 2018-19 candidates are now open.
The Leukemia & Lymphoma Society is the world's largest voluntary health agency dedicated to blood cancer. The LLS mission is to cure leukemia, lymphoma, Hodgkin's disease and myeloma, and improve the quality of life for patients and their families. LLS funds life-saving blood cancer research around the world and provides free information and support services. Click here for more information.