Guyer 45, North Crowley 28
Guyer defeats North Crowley 45-28. ?? #txhsfb pic.twitter.com/k76AsCmcEj

— Colin Mitchell (@CJHMitchell) September 15, 2018
The Wildcats picked up their first win of the season on Friday night with a 17-point victory over North Crowley.
Eli Stowers passed for 234 yards and three touchdowns and rushed for a touchdown as well.
Harrison Bohannon rushed for 96 yards and a touchdown, and Cam Thrailkill, Travis Romar and Seth Meador all caught touchdown passes.
Kaleel Rhoden also scored for the Wildcats on a 10-yard run and Cole Schroeder kicked a 32-yard field goal.
Guyer will next play at 7 p.m. on Sept. 27 at Keller Central.
Marcus 21, Waxahachie 7
Justin Dinka (San Diego State) rushed for 160 yards and a touchdown on Friday night as the Marauders defeated Waxahachie by two TD's.
Marcel Brooks caught an 8-yard pass from Garrett Nussmeier to get things going for the Marauders early on, and Ty'son Edwards made it 14-7 at half time on 5-yard run in the second half.
Dinka scored on a 9-yard run in the third quarter to extend Marcus' lead following a Christian Espinoza interception.
Marcus will next play at 7 p.m. on Sept. 27 at Irving.
Argyle 66, Tyler Chapel Hill 14
The Eagles crushed Tyler Chapel on Friday in a game where quarterback Bo Hogeboom passed for 297 yards and six touchdowns.
Dillon Carter finished the game with six receptions for 175 yards and three touchdowns, and running back Hunter Martindale rushed for two more touchdowns.
Caden Merka also caught two touchdown passes, Brandon White had one and Adam Schleder caught a 77-yard touchdown pass, the longest of the game, from Alex Gonzales.
Argyle will play next at 7 p.m. on Sept. 28 against Texarkana Liberty-Eylau.
Prosper 52, Flower Mound 21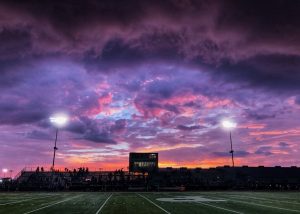 The Jaguars came up short on Friday night in Prosper.
After Prosper opened the game with 17 unanswered points, Jake Welch broke through on a 12-yard run to make it 17-6 heading into the second quarter.
Reece Carter scored on 7-yard pass from Blake Short with just over two minutes remaining in the second quarter, and Prosper lead 24-14 at the break.
After a rain delay, the Eagles scored four straight touchdowns in the third quarter to put the game out of reach, but Welch did score a second time on a 6-yard run to finish out the game.
Flower Mound will play at Lewisville next at 7 p.m. on Sept. 28.
Liberty Christian 21, Brock 0
The Warriors evened their season record on Friday night with a 21-0 victory over Brock.
After a scoreless first quarter, Andre Washington broke loose on a 97-yard touchdown run to give Liberty Christian the lead.
Preston White caught a 32-yard touchdown pass from Daniel Greek to make it 14-0 at the half.
Greek and White hooked up a second time in the third quarter on a 30-yard pass for the final score of the game, which was called early due to a thunderstorm.
Liberty Christian will travel to Plano at 7 p.m. on Sept. 21 to play Prestonwood Christian.
Coram Deo 21, Shelton 0
The Lions defeated Shelton by a score of 21-0 to improve to 3-0 on the season.
It was the second straight week the Lions defense has held an opponent scoreless.
Coram Deo will play next at 1 p.m. in Dallas against the Covenant School.