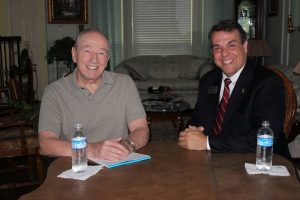 For more than 40 years Christian Community Action (CCA) has been healing, feeding and educating families throughout Denton, Collin, Dallas, Tarrant and Wise Counties. What started as a Bible study group of seven people in 1973 has grown into an organization of over 25 staff members and hundreds of volunteers. Headquartered in Lewisville (200 S. Mill St.), CCA is one of the largest private non-profits in North Texas, providing more than 10,000 individual services each year.
Through careful case-management, CCA's holistic approach from rescue to transition helps families in need achieve self-sufficiency by offering a "hand-up" instead of a hand-out. During the video interview, Stephen Hood, CEO and President of CCA, talks about the goals of the organization, some of the services it renders and much more info on how to avail oneself of those services.
Stephen joined Christian Community Action as President and CEO in June of 2018. For over 25 years, Stephen has led a diverse and successful career in the non-profit sector. Through his career he has been driven with a passion to serve and help instill hope in the lives of others. Prior to CCA, he served as the Executive Director for the Wellness Center for Older Adults in Plano, TX; building and delivering programs designed to address the unique and growing needs of the senior population.
Moreover, he served in a variety of Senior Leadership positions in faith-based organizations. With over 15 years at The Salvation Army, Stephen has served as a local pastor for congregations in Kentucky and administrative responsibilities in Washington, D.C., Ft. Lauderdale, Florida and Dallas/Ft. Worth, Texas. While in Texas, Stephen provided oversight at the DFW Command; focusing on 23 service centers, 360 employees with an operating budget of $54 million. In addition,
Stephen has provided oversight for the Shelby Kennedy Foundation and the National Bible Bee and served as the Executive Director for Community Bible Study International, leading the organization to establish culturally relevant Bible Studies in 60 countries and 33 languages.
Stephen served as a consultant for other faith-based organizations in the area of fund-development, board development and building strong internal controls with fiscal reporting. He completed his undergraduate degree in business Administration and Accounting from Houghton College; his Masters in Strategic Management from Indiana Wesleyan University, with a seminary diploma and Officers' Commission from The Salvation Army's Officers' Training College. Stephen has three children; Rebecca, Kathryn and Jonathan.
The CCA mission statement reads: "In the name of Jesus Christ, Christian Community Action ministers to the poor by providing comprehensive services that alleviate suffering, bring hope and change lives." Their statement of faith reads: "We believe the Bible to be the inspired, infallible, inerrant and authoritative word of God. We believe in one personal, transcendent and holy God, the creator of all, and externally existing as three persons: Father, Son and Holy Spirit. We believe that Jesus Christ, though fully God became a man and that He was born of a virgin, lived a sinless life, and provide the atonement of our sins by His death on the cross."
For more info: www.ccahelps.org.