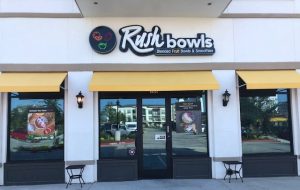 Less than six months since first announcing their entrance to the Texas market, Rush Bowls – a fast-casual restaurant chain known for its meals-in-a-bowl crafted from the finest fruits and vegetables, topped with granola and honey, and blended with protein, vitamins and other nutritious ingredients – opened its Flower Mound location on August 27.
Located at 2400 Lakeside Parkway in Flower Mound, the 890-square-foot store is owned and operated by husband and wife team Michael and April Fuchs. It is the second Rush Bowls location to open in the Dallas/Fort Worth area, with the first opening at Mockingbird Station in Dallas in early August.
"We are so excited to bring this new health concept to the DFW area," said Michael Fuchs. "People are eating differently than they ever have and Rush Bowls is the perfect addition to an ever-growing community that values healthy, delicious options."
With over 20 years of experience, Michael Fuchs is no stranger to the food industry. Prior to Rush Bowls, he worked as an executive and sales consultant for various companies, selling food to retailers in the grocery sector.
April Fuchs worked as a teacher, teaching grades seven through 12, before assuming her current role as the Executive Director for a scholarship foundation.
Both former students of Texas A&M University, the Texas natives moved back to Texas in 2015, finding a home in Keller, right in the area where they plan to operate one of their new Rush Bowls restaurants. The couple has three children – a 15-year-old son and twin daughters who are 12 years old – that they plan to involve in the business.
"We're ecstatic to be back home in the Great State of Texas, and even more excited to be pursuing a business as a family," added April Fuchs. "We wanted a business that not only allowed us to spend more time together, but allowed us to pass something on to our children. Rush Bowls was something my husband, myself and our three kids were passionate about and our children ultimately helped make the final decision to open our own."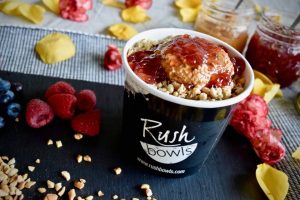 Founded in 2004, Rush Bowls offers meals crafted from all-natural fruit, topped with organic granola and honey, and blended with protein, vitamins and other nutritious ingredients that taste delicious while promoting a healthy lifestyle. Customers can choose from over 40 signature bowls or all-natural smoothies made with fruit and vegetable bases, including acai, kale and avocado.
"It's Rush Bowls' fresh, high-quality and wholesome meal offerings that intrigued our family and will delight our community," Michael Fuchs added.
Over the past 14 years, Rush Bowls has cultivated a loyal following with its menu specializing in healthy, all-natural, fruit-blended meals-in-a-bowl for those on the go. Bowls are also available in vegan, gluten-free, soy-free and dairy free options, and anything can be custom made to cater to any and all dietary needs.
"We couldn't be more excited to see Michael and April continue to grow the brand in their home state of Texas," said Rush Bowls' founder and CEO, Andrew Pudalov. "We are incredibly pleased with the following we have garnered in Colorado, Tennessee, Missouri, and we look forward to seeing the same acclaim and recognition as we continue expanding throughout Texas and nationally."
Rush Bowls has more than 70 Rush Bowls restaurants currently in various stages of development across 14 states with a variety of deals in the pipeline in major markets throughout the United States. Company plans call for having over 20 locations open by the end of 2018.