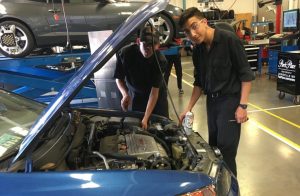 Who doesn't want to impart wisdom as they age? Then let me let you in on a little known secret. You can donate your aging cars and trucks to Lewisville ISD. Your car can then impart wisdom, through training, to many, many students for many years.
The students in Automotive Technology and Auto Collision Repair classes always need more cars. Teachers use donated cars as learning tools. Students diagnose and fix issues in the car, only to have the teacher break something else and have them start again. Donated cars allow for increased training opportunities for our students to help them prepare for their future.
After our teachers and students have used and abused these cars, LISD has an agreement with both the Lewisville and Flower Mound fire departments to use then as training vehicles to practice life-saving techniques. The firefighters use the Jaws of Life on them and even set then on fire and then put them out.
And if that isn't enough, when you donate your car, you get a tax write-off as a reward for your good deed!
So, when you don't want to sink any more money into your old car, let it impart wisdom to our students and then fire departments.
Donate your car! It is the gift that keeps on giving.
Contact Lewisville ISD today. www.lisd.net, 469-713-5200.

Kristi Hassett
Flower Mound, TX