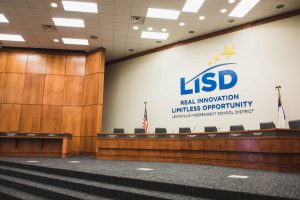 The Lewisville ISD is seeking members for its District Leadership Team, according to a district news release.
The DLT will advise the LISD Board of Trustees or its designee in establishing and reviewing the district's educational goals, objectives and major district-wide classroom instructional programs identified by the Board or its designee, according to the news release. The DLT will meet from 4:30 – 6 p.m. at the LISD Administrative Center, 1565 West Main St. in Lewisville — on the following dates:
Sept. 27, 2018
Dec. 6, 2018
Feb. 21, 2019
May 9, 2019
The district asked anyone who is interested in serving on the DLT and can attend every meeting to email Dr. Joseph Coburn at [email protected] by Thursday.