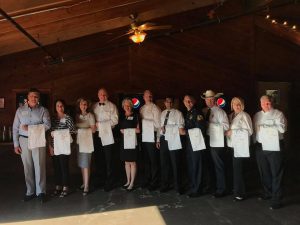 When I think about what happened on Sunday, September 2nd at the Circle R Ranch in Flower Mound, there's an inner satisfaction I feel that comes from the knowledge that I'm blessed to live in this community.
It was less than two months ago that I received a call from former Flower Mound Mayor Tom Hayden. He had watched the video I did with Susie Klamkin, whose daughter Emily is in need of a five organ transplant, a very expensive operation. Tom said there must be something we can do to help this family.
Last night was the result of what can happen when so many good people look outside themselves and commit their hearts to others.
Tom called our State Rep. Tan Parker and was instantly assured that he'd be on the team. He asked me if I could get my buddy Dave Magee to entertain. Dave has a busy schedule performing across the country, but would fit us in on Sept. 2. (The night before, he was doing a show in Atlanta. He got back into town the afternoon of the fundraiser.)
Tom and Tan called Jimmy Archie, Managing Director of Realty Capital, developers of the magnificent Lakeside DFW community in Flower Mound. Jimmy contacted several restaurant owners in Lakeside and when they heard about the plan for a fundraiser to help the Klamkin family they joined the team.
They decided to donate all the food for the evening. That meant that attendees would be treated to some of the most delectable entrees and desserts in the Metroplex. Six fabulous eating establishments; Mio Nonno Trattoria, Hanaya Hibachi Sushi & Asian Fusion, Carvao Prime Brazilian Steakhouse, Mena's Tex-Mex Grill & Cantina, Paradise Bistro & Coffee Co. and Epic Gelato & Craft Coffee provided enough food to feed a marine regiment for a month. If you haven't tried some of these epicurean delights at Lakeside, you're missing out on some truly fine dining.
Then a call was made to Kim Cloud, owner of Cloud 9 Salon, Spa and Boutique at 1651 Justin Rd. Kim, one of the pillars of this community, offered her Cloud 9 Charities designation to help make all donations, including ticket prices, tax-deductible.
While all this was happening, Jason Roberts, the owner of Circle R was contacted. He rose to the occasion by donating the venue, as his brother Casey Roberts, Event Operations Mgr. and Blair Green, Sales Mgr. helped our team coordinate.
Speaking of coordinating, I must give mega kudos to Paula Kratohvil, retired from Complete Interior Solutions, which has been decorating homes and offices for about 30 years. If I owned a football team I'd want her to be my quarterback. Paula managed the team like a gridiron coach, holding meetings at her home and using a whiteboard to call the plays. Add to that her indefatigable artistic efforts, decorating dozens of tables with linen, flowers, sparklers and literature, and we felt secure to know that she'd make us look good.
Then there's David Bailey, our graphics expert, who put together the website and Facebook page which was an immense help in explaining the reasons for the event and how to be a part of it. His lovely wife Robin was also an inspiration at every meeting.
I can't leave out my incredible partner, Annette, who did more than her share of organizing, including setting up the waitstaff, and helping to wait tables herself. By the way, take a look at the notable figures in the photo, each of whom diligently walked the huge room carrying trays of appetizers, surprising guests, many of whom had never met the people who represent our extraordinary towns, cities and county.
Another special guest, and waiter, who was not in the photo, is former Cowboys defensive tackle and winner of three Super Bowls, Chad Hennings. Chad was busy working the room and the microphone as he raised money for several items during the evening.
I hasten to add what I think is just about the most genuine display of compassion and generosity I've ever witnessed. Kyle Cunningham, Minister of Bridgeway Church, 8201 Justin Rd (FM 407), Copper Canyon, donated the entire contribution ($24,000) from last Sunday's services to the fundraiser for the Klamkin family. To say that we're blessed to live in this community is an understatement.
I had the honor of introducing Dave Magee to the packed house which had just finished a marvelous cocktail hour and a sumptuous dinner, accompanied by the music of the Flower Mound Community Orchestra and the Bridgeway Church Trio. They were ready for the main event of the evening.
As usual, Dave didn't disappoint. His mentalist performance was so astounding that one could hear gasps from the audience every time he did something that defied the imagination. "How is that possible?" some said. Other comments included, "That guy must be psychic or he has some form of ESP." Using several members of the audience in his act, Dave had over 250 people on the edge of their seats as they watched in disbelief as the "Master of the Mind" rendered them speechless.
It was a night to remember on many levels, not the least of which was that we once again proved what the power of purpose-driven people can do for their fellow brothers and sisters. Looking around the room and feeling the energy of so many good people, I had the feeling that someone divine also had a seat in that audience.