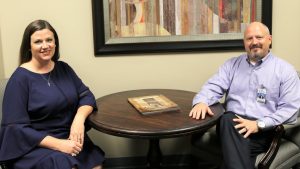 The accolades keep pouring in.
In addition to accreditation with AdvancED, Liberty Christian recently received accreditation from the prestigious Association of Christian Schools International (ACSI), an organization that provides leadership and accountability to Christian schools globally, offering cutting-edge educational support along with a biblical worldview.
"With our AdvancED accreditation, we hit the target," said Liberty President Blair McCullough. "With the ACSI accreditation, we hit the bullseye."
He said that ACSI speaks to the heart of Liberty, as it provides a strategic plan to strengthen the school and solidify its foundation, with biblical integration as the most important piece. Liberty has been a member school of ACSI for years, but the accreditation exponentially raises the bar and sets a standard of excellence that students deserve.
"To align ourselves with such a reputable organization like ACSI validates that we are on the right track as a school," Dr. McCullough added.
A team from ACSI visited Liberty last spring, engaging in a vigorous, holistic process to appraise the school, drive improvement, and continue excellence.
Just 2 percent of private schools in the U.S. are accredited by ACSI, and only 15 schools in that 2 percent are accredited as exemplary by ACSI, which is Liberty's next goal.
"Over the next two years, ACSI will evaluate every detail of our school and make recommendations in our pursuit of exemplary," said Dr. McCullough. "We always want to have others show us how to improve – always – and we will never stop striving to be better."
Leah Beard, the school's new Vice President – Academics, said Liberty will continue to provide differentiation in the classroom this year, a way to see students as individuals in the learning process, knowing students need various tools for learning to give all of them equal access and opportunity to succeed based on their individual gifts.
Mrs. Beard brings to Liberty 14 years of service in public school teaching and administration. She received her Master's from Columbia University's Teachers College in Organizational Psychology with a Specialization in Change Leadership, her Bachelor's from Texas A&M in History, and her teacher certification from the University of North Texas.
She said, "At Liberty, we want to develop student leaders in our ever-changing society who are multi-versed in multiple areas, ready for any challenge that lies ahead."
She looks forward to partnering with ACSI and said she welcomes the opportunity to serve God at Liberty to help students become world-changers for Christ.
"Mrs. Beard comes to Liberty with a wealth of experience and a passion to serve the Lord through educational ministry," said Dr. McCullough. "She knows that we want our students to be confident to engage in any area of academia as a believer."
In addition to the ACSI accreditation this summer, Dr. McCullough invited to the school Dr. Alan Pue, a renowned educator who is president of The Barnabus Group, an organization that specializes in providing strategic planning and resource development assistance to churches, Christian schools, and colleges.
Dr. Pue travels extensively throughout North America speaking at Christian school conferences and working with educational leaders in the areas of strategic planning, governance, and marketing.
Dr. Pue is the author of more than two dozen published articles, along with the books, "Rethinking Strategic Planning for Christian Schools," and "Rethinking Sustainability: A Strategic Financial Model for Christian Schools."
"It was a great honor to have Dr. Pue on campus for several days," said Dr. McCullough. "To hear from him that we are a great school meant so much, and we look forward to working with him in the future to make sure it stays that way."
Both the AdvancED and ACSI accreditations focus on standards such as a school's purpose and direction, governance and leadership, teaching and assessing for learning, resources and support systems, and using results for continuous improvement. ACSI adds three additional accreditation standards to that list, including home and community relations and student services; character, values, and spiritual formation of students; and student care.
Dr. McCullough was first introduced to ACSI when he served at a Christian school in South Korea. He said an accreditation with ACSI is what excellence looks like, and it is what schools should use to set their standard.
"We teach and expect our students to live out the Warrior Way, the guiding principles of our school," said Dr. McCullough. "To expect this level of excellence from our students, we as administrators and teachers must do the same.
"I believe this partnership with ACSI, along with setting our sights on exemplary status, will keep Liberty striving for excellence in the classroom and with our entire school community for many years to come."