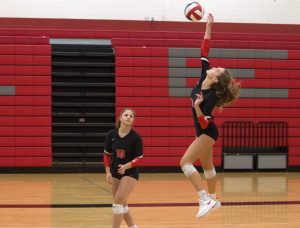 With volleyball season in full swing, hopes are high for several southern Denton County schools this season.
Five of the six teams in the region qualified for the playoffs last year; and a lot of returning talent could mean an even stronger season in 2018.
Argyle lost to Needville in the State Championship game last season, after wrapping up a 27-19 record. Coach Megan DeGroot said she believes that her team is in a great position to have another long postseason run.
"With this being my second year in the program– and having nine returning varsity players– we have been able to start on a different note than last year," DeGroot said. "The speed of our offense is much faster right now than that of last year's team at this point. Now it is all about finding the right rotation and focusing on our defense."
DeGroot said she has several stronger returning players, including setter Paxton McGlinch and middle blockers Kassidy Reeves, Mariah Hesselgesser and Kiley Lavelle.
DeGroot added she also has a player in a new position who could emerge as a force this season.
"Allie Jones will be replacing our strong outside, Danielle Davis, who graduated," DeGroot said. "She played as a defensive specialist last year. She has big shoes to fill, but has all the ability to become a threat on both defense and offense anywhere on the court. She is a very smart and energetic player—one that any coach would love to have on their team."
At Marcus High School, coach Danielle Barker said her team is happy to get the season underway and said she believes the Marauders are in a good position to claim one of the top four spots in District.
"The team looks really good right now and had a great start, so we are very excited for this season," Barker said. "Our goal this year is to be very competitive at a high-level and make a playoff run."
Marcus went 18-17 and finished fourth in District in 2017.
The Marauders return defensive specialist/libero Emma Halcomb, outside hitters Kennedy Peacock and Maddie Meiner, right side hitter Payson Kelley, setter Maren Wisener, outside hitter and middle Camryn Upshaw.
Barker also has a couple of up-and-comers from which she expects great things in sophomores Alex Warren (middle) and Paige Hunden (outside and right side hitter).
"Alex brings a great presence to the front row on the defensive and offensive sides of the ball," Barker said. "She has lots of energy and works very hard to improve. Paige has great shots and brings speed to our offense."
Across town at Flower Mound, the Jaguars are under new leadership this season with coach Jamie Siegel, who helped lead Keller to a District 3-5A Championship and trip to the Regional quarterfinals in 2017.
Siegel said she believes that Flower Mound has a chance to do something special this season, if her players are willing to put in the work.
"We are excited about this group of girls and the way practices are going," Siegel said. "Good things are ahead for us."
Some of the Lady Jaguars' stronger returning players this season include Ashley Miller, Abby Butler, Reagan Hooper, Gabby White, Sarah Martinez, Emily Merrick and Kaylee Cox.
Siegel said the goals for this season are, "to work hard daily, to grow together as a team, to compete every day and compete to win daily," and said she expects a number of players to step up– including a couple of first-year varsity athletes.
"Angelique Cyr and Avery Japak, both sophomores, are both first-year players on varsity and are big contributors already," Siegel said.
At Guyer High School in Denton, Heather Van Noy's team lost a tie-breaker at the end of the regular season in 2017 to finish fourth in District; and, squared-off with eventual State Champion Hebron in the Bi-District round.
Guyer finished 31-14 last season and is looking to pick up where it left off.
"Things are going well," Van Noy said. "We have a lot of talent, but we just need to make sure everyone stays healthy throughout the season."
Van Noy said she has five players she expects to lead the way in 2018 for the Wildcats, including middle blockers Rachel Tullos and Jordyn Williams, outside hitter Hailey Schneider, setter Brooke Slusser and libero Ciara Brown.
Van Noy said the goal for Guyer this season is pretty straightforward.
"We want to finish at the top of one of the toughest Districts in the state and then continue to play well in the playoffs," Van Noy said.
For the Liberty Christian School volleyball team, a 21-18 record and fifth place finish in District last year, has the Lady Warriors hungry to get back into the postseason. Coach Kim Grizzle said her team has its collective eye on the prize in 2018.
"We want to win our District this year," she said. "Our District has restructured and we feel that we have the talent to win the District."
Liberty has a number of talented returning athletes, and Grizzle said she expects certain players to take the reins this season.
"Kiley Goodrum is a senior outside hitter that plays with passion and energy," Grizzle said. "She looks to score at every opportunity. Ella Marr is a senior middle hitter. She encourages her teammates and is positive. She plays smart. Parker Ford is a sophomore returner that plays libero. She has taken on a big role and has stepped-up and helped our defense."
Grizzle said she also has a couple of younger players she believes could be the key to helping the Warriors claim a playoff berth.
"Grace Barr is a sophomore outside hitter," Grizzle said. "She has a heavy arm and will be a huge contributor on the outside. Madison O'Rourke is sophomore middle hitter that is going to add to our blocking game."
For Coram Deo Academy in Flower Mound, a trip to the area round in 2017 was an impressive showing.
The return of several top players should give the team a lot of confidence this season.
Expect setter Rebekah Hamm, outside hitters Mary Taylor and Kacey Heitschmidt plus middle blocker Catherine Newton to lead the way for Coram Deo this season.
Newton was an All-State selection in 2017; while Hamm, Taylor and Heitschmidt all earned All-District honors last year.