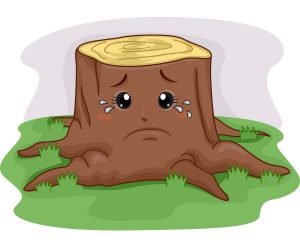 This summer's weather has been unkind.
Nary a raindrop could you find.
Except, of course, when storms would blow
Breaking tree limbs both high and low.
One large limb from way up high
Landed on our fence, Oh My!
Crushing the gate was an awful fate
And to get it fixed we had to wait.
Too much wood had fallen down
Tree trimmer guys just weren't around.
This was sure their busy spell.
No lack of jobs they did tell.
Checking out our neighbor's yards
They too had been hit just as hard.
Branches laying everywhere
And tons of leaves we all could share.
Our tree that lost its great big branch
Had to go…an unfortunate circumstance.
Many limbs caressed our gables
Full of bugs we could not label.
Into logs the mighty tree was doomed
For after thirty years its limbs had loomed.
A tiny tear I shed for it,
Knowing its fate was a fire pit.
A giant stump was all that remained
Which couldn't be helped, no one to blame.
So again we went about the task
Of grinding the stump, that's all we asked.
The guys that were busy cutting down trees
Rivaled how busy these grinders could be.
After waiting some time for our stump to be ground,
The man for the job did come around.
His prices weren't bad and a fine job he did
And this was after we'd had more than one bid.
Now the fence is yet quite another matter,
More bids for this work we'll have to gather.
But someday this mess will all be behind us
Until another storm decides to find us.
We'll watch from inside as skies grow dark
And the Sycamores shed scads of their bark.
So then the process will begin
Of picking up tree limbs all over again.
But we'll have all the numbers of people to call.
Hoping they're willing to show up at all!