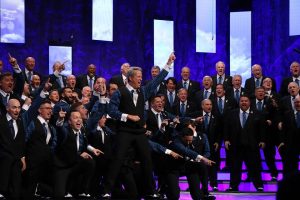 by Elizabeth Brannon
Several weeks ago, 152 members of the Vocal Majority Chorus traveled to Orlando, FL, where they competed for and won their 13th International Chorus Gold Medal in the Barbershop Harmony Society Competition, a record not likely to be broken.
Their competition songs of Don't Rain On My Parade and What I Did For Love scored a resounding win over 30 other competitors, several of which were former chorus gold medal winners.  The competition was thrilling and there are lots of shiny new medals all over North Texas as a result.
Many members of the VM are Flower Mound and Lewisville residents, including Jim Clancy, the Executive Musical Director, and his son, Greg Clancy, the Musical Director.  Jim's wife, Judy, leads the VM family and friends support organization.  Judy is a gold medal winning singer in her own right and is a retired LISD 4th Grade Gifted and Talented Leap Program teacher.
The competition is about more than winning an a cappella singing award – it's really about the journey of hard work and bonding and making music and honoring an original American art form and creating life experiences for the performing members and the audience, live or virtual.  It's about telling a story through the art of singing and harmonizing and letting the audience ride the roller coaster ride of human emotions – joy, humor, sadness, hope and love.
The secret to their sound is both their maturity as a skilled performing arts group and the love and joy they bring to every note they sing. A listener at the recent competition described the VM sound as lush, and like having a full orchestra perform, while other competitors were like a single section of an orchestra.
The competition settings are usually large arenas, more like a barn than an artistic performing venue, so it takes a lot of passion to grab the audience and the judges and give them a meaningful experience in 10 minutes.
If you talk to the members or their families, they'll tell you it's a life changing experience to be a part of this group.  While they all work hard and long hours for the chorus, most will tell you they get far more from membership than the chorus ever demands they give.  For this competition, the VM set their sights on giving a unique and loving experience to all who sang or listened, rather than being solely focused on winning.
Sadly, immediately prior to this competition, directors Jim and Greg lost an older son and brother and Greg also lost his mother two days after the death of his brother.  When the chorus sang, "as we travel on, love's what we'll remember," it became a tribute to the family members the much-loved directors had lost.  The men wore white ribbons on their lapels and had cards in their pocket that said, "love's what we'll remember" as they competed.  It's not hard to understand why most guys will tell you they came for the music and stayed for the brotherhood.
The members of the chorus are a mix of professions, ethnic groups, geographies (some commute from Waco, Austin, Houston), ages (from 14 to 80+) and varying musical talents (some are professional musicians, but most are talented amateurs with a passion for making music).  Under the Clancy leadership, this chorus has produced two dozen recordings and has shared the stage with the Mormon Tabernacle Choir, Jimmy Dean, Lee Greenwood, the Four Freshmen, the Oak Ridge Boys (to name a few), and has performed for Presidents Ronald Reagan and George H.W. Bush.  It's the diversity of ages and life experiences that adds to the sound the VM has been known for over the past 40 years.  The VM is an honored and successful community arts group with a rich history and a wonderful future.
They welcome new members and make new audience fans with every performance.  Their live-stream performance of Hallelujah, when Leonard Cohen died, garnered 8.5 million hits on their Facebook page.
To learn more, visit vocalmajority.com  or attend their spring or Christmas shows.
By the way, Greg's teenage children are both excellent musicians and Greg's daughter, McCaa, says one day SHE will direct the men of the Vocal Majority!  WOW!!  Consider being part of the VM experience.
And congratulations to the Vocal Majority on their latest success!
Elizabeth Brannon serves on the Flower Mound Cultural Arts Commission.