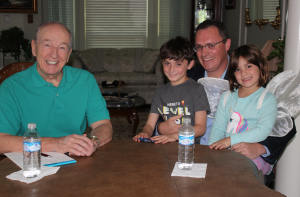 By Bob Weir
There are several local candidates for political office that will be on the ballot in November. During the past several months I've interviewed most of them. Due to the heavy concentration of Republicans in Denton County, my interviews have been almost exclusively with GOP contenders. I seldom reach out to candidates of either party to request an interview with them, preferring to have those interested get in touch with me. Recently, I was contacted by Michael Callaway, Democrat candidate for Justice of the Peace in precinct four. One of the reasons these interviews are important is because they educate the voters on the duties performed by elected officials.
For example; how many people know what part a Justice of the Peace plays in the justice system? Mr. Callaway answers that and several other questions pertaining to the job of JP. He also gives viewers background info to help them decide his qualifications and temperament for the job. Mr. Callaway's campaign website is: www.callawayfordenton.com The following is a short bio he sent me for this interview.
"I graduated from Baylor University in 1996 with a Business Degree in Economics and International Business. I graduated from the University of Dallas in 2004 with a Master's in Business Marketing. I've worked in the financial industry for over 20 years. The financial industry is ruled by complex laws and has a lot of reporting requirements. Knowledge of these rules and test are a part of life in this industry. For seven of those years I worked with savings plans that are governed by ERISA. This experience actually is very relevant to the role of Justice of the Peace.
"When creating a work place savings plan there are basically two ways of doing this, you can hire an ERISA lawyer and customize a plan for your firm or you can use a Prototype plan. I am not an ERISA lawyer, I worked with Prototype plans. If the goals that you had for your company could be accomplished inside the prototype, I knew how to do that for you. If what you wanted was outside of the prototype, I knew we needed ERISA council.
"The Justice of the Peace court system works the same way; it deals with a narrow section of law and circumstances. The job of the Justice of the Peace is to know how this narrow section of law applies to the facts and circumstances before them. They need to apply those facts and circumstances within that scope. If the scope widens and the case moves to another court that is exactly what is supposed to happen. Community Service: My wife works for Meals on Wheels, three days a week in Grapevine, TX. When she needs help, I am volunteer number one. Meals on Wheels is a great organization that helps provide meals and community to seniors who may not get that otherwise."