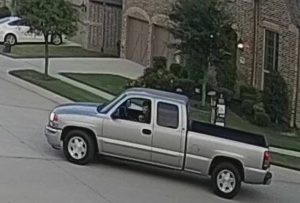 The Denton County Sheriff's Office has investigated a recent incident in which a driver invited children to get into his vehicle using candy as a lure Investigators believe the driver was a teenager using "extremely bad judgment," rather than a confirmed and continuing threat to the area.
According to the Lantana Crime Watch, on the evening of Saturday, Aug. 18, a young white male was driving a light-colored GMC pickup slowly in the Bandera subdivision near the intersection of Cholla and Bluebell streets; and, on two separate occasions, in the same block, he invited kids playing in a front yard to get in the pickup if they want candy.  The truck never stopped and it left the area without additional incident.
The sheriff's office was called and information about the incident was shared with Lantana Crime Watch and Lantana subdivisions. However, the sheriff's office, "is concerned an unnecessary panic was created when misinformation and unverified facts were spread through multiple channels around Lantana." DCSO asked residents not to speculate, paraphrase or add additional information or "perceived" facts that have not been verified.
The incident was "extremely alarming," but after investigation, "this doesn't appear to be an overt act to entice children and doesn't appear to be a continued threat to the area, but it is apparently teenagers who used "extremely bad judgment … There is no evidence to support that this was an intentional 'prank' or to confirm an offense occurred."
DCSO is still taking the incident, "very seriously and is actively pursuing more information about the individual(s)."
As of Friday, investigators had not made contact with the driver, but indicated that is still a priority.
If you see the vehicle involved in the incident, call 911 and don't take the law into your hands. If you have information about the driver involved in this incident, contact Lt. Roger White of the Criminal Investigation Division  at 940-349-1669.