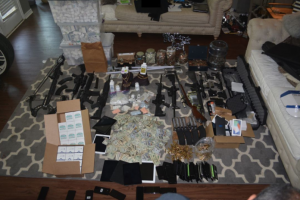 The Denton Police Department announced Wednesday that it arrested two suspects living in south Denton and seized $1.5 million in drugs in a major narcotics investigation.
The Denton Police Department Narcotics Unit, with help from special agents of the Drug Enforcement Administration, executed a search warrant in a home in the 3500 block of Mustang Drive and a storage facility in the 1200 block of Fort Worth Drive, both in south Denton, on Aug. 2, according to a DPD news release. The searches resulted in the seizure of a large number of weapons, illegal drugs and hundreds of stolen items.
The operation was the culmination of a months-long investigation, according to Denton police, after investigators learned that an employee of a freight delivery company, Floyd Wagner, was stealing packages of bulk shipments of opiate-based prescription medication while en route to pharmaceutical distributors in the area. Investigators conducted surveillance of Wagner's home on Mustang Drive and the storage facility he frequented on Fort Worth Drive, eventually finding evidence of the package thefts that Wagner discarded.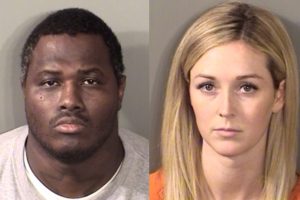 After police conducted a controlled purchase of illegal prescription medication from Wagner, arrest warrants were obtained for Wagner and his live-in girlfriend, Brooke Neal, along with the search warrants, according to the news release. Police recovered more than 120,000 pharmaceutical pills (including Hydrocodone, Oxycodone, Morphine, Fentanyl and Dilaudid), 14 firearms (six of which were stolen) cash and hundreds of items of stolen property.
The drugs that were seized have an estimated street value of $1.5 million.
Wagner remained in Denton County Jail on Thursday on several charges — including manufacture/delivery of controlled substances, theft of firearms and theft of property valued more than $300,000 — as well as a U.S. Marshal hold. Neal was also still jailed on four counts of manufacture/delivery of controlled substances as well as one count of abandon/endanger a child – criminal negligence. Her total bond is $175,000.
The Denton Police department views the arrests and seizure "as a positive step for our community in the fight against the opioid epidemic," the news release said.