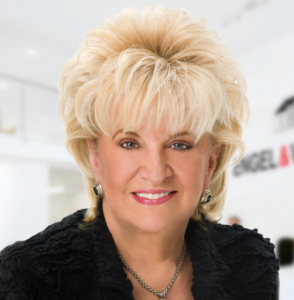 Local real estate broker Roxann Taylor has helped grow a global real estate brand in Texas, and she says her business is at an "exciting turning point.
Taylor pioneered the entrance of global luxury Real Estate brand Engel & Völkers into Texas in 2014 with the company's 28th shop in North America, according to a news release. Now, less than four years later, Engel & Völkers touts real estate shops in 34 countries and more than 150 shops throughout North America.
Taylor's franchise commitment includes opening multiple shops in the DFW Metroplex to go along with the two she currently has open in Southlake and Flower Mound. She has brought on two strategic executive hires to help bring her expansion plans to life and added a sales group. James Keoughan, previously with Sotheby's International Realty, joins the Engel & Völkers' Dallas Southlake shop as a business partner and Director of Sales. Charles Honeycutt joins as the Director of Operations to oversee growth and operations of the Dallas-Fort Worth Metroplex for Engel & Völkers Dallas.
"We are in the midst of an exciting turning point in our business," Taylor said. "The real estate transaction remains an intricate one, and I believe our clients deserve true Real Estate Advisors (agents) to take care of every facet of their needs down to the very last detail. While other companies reduce personal attention, we are positioned better than ever to offer a concierge level of service that is synonymous with Engel & Völkers globally to the Dallas-Fort Worth Metroplex area."
Keoughan has lived in Southlake with his wife and four children for two decades and has been highly successful in his real estate career as an agent. He became familiar with Engel & Völkers over the years through many interactions and was impressed with its business practices and global reputation.
"I was looking to take my career to the next level and found that Engel & Völkers' business model is based on helping each individual advisor best serve their clientele and support their professional path," Keoughan said. "I've seen the strong global reach and highly sophisticated level of marketing and training this brand offers – there's nothing else like it."
Honeycutt, an entrepreneur and with more than 15 years in sales management for Fortune 200 companies, sees the opportunities for Engel & Völkers in the booming Dallas-Fort Worth Metroplex.
"Engel & Völkers is the standard for real estate service throughout the globe and offers our Advisors referral opportunities worldwide with homes, and through our yachting, aviation, and castle divisions. I'm excited for the opportunity to share our brand with all of the DFW Metroplex," Honeycutt said. "We believe a blended strategy of converting existing agencies to Engel & Völkers and investing in advisors who want to see their business progress not only as an agent, but also as a possible owner, will be integral to fueling growth."
Taylor also welcomes the Jenkins Group, formerly of Sotheby's International Realty, to Engel & Völkers Dallas Southlake.
"The professional atmosphere and potential for our business attracted us to Engel & Völkers," said Jerry Jenkins. "There is an energy you simply have to experience working in our beautiful real estate shops that are consistent throughout the globe. With our track record and the power of this brand, we will be able to enhance our offerings even more to provide the utmost service levels that the Southlake area communities deserve."