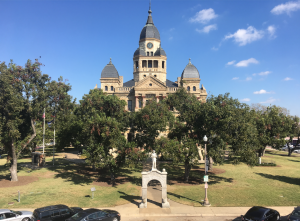 Construction will force the closure of parking around the Denton Courthouse-on-the-Square for about the next month.
Construction crews began making repairs to the curb and gutters surrounding the courthouse on Monday, according to a news release from the city of Denton. Beginning with the north section, Oak Street, the crews will work their way counterclockwise around the square, completing one section per week.
All parking spaces within the section that is being worked on will be closed during construction, according to the city.