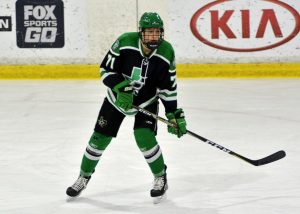 Cross Hanas is about to pursue the opportunity of a lifetime.
The Highland Village 16-year-old was one of a handful of hockey players selected to compete in the Five Nations Tournament later this month in Slovakia. It will include teams from the United States, the Czech Republic, Germany, Slovakia and Switzerland.
Hanas and the other 19 2002-born players will attempt to win the fourth straight title for the U.S.
"It's an incredible feeling to be able to represent my country, especially for playing the sport I love," Hanas said.
The former Marcus High School student– and member of the Dallas Stars 16U team– had to complete an arduous process to receive an invitation to the Five Nations Tournament. It included being selected from Texas, then moving onto the Rocky Mountain District, which including the states Colorado, Arizona, Utah, Texas, Idaho, New Mexico and Oklahoma.
Hanas was one of seven forwards to move on from the Rocky Mountain District to compete at the USA National Select 16 Camp in Buffalo, New York.
His father– and former coach– Trevor Hanas, said that his son then had a "great" national camp and earned his spot on the USA 5 Nations Cup U17 team.
Coach Hanas has been with the Dallas Stars Elite AAA Program for 13 years. He said he knew pretty early on that his son had an aptitude and passion for the sport of hockey.
"I recognized his love for the game at a very young age, when I was coaching him," Hanas said. "I also noticed the talent that he had and his desire to get better since he was very young. If he wasn't at the rink on the ice, he would be at home in the driveway shooting pucks on his hockey net or playing mini-stick hockey in the house or roller blading with a hockey stick outside."
The teen credits his father for nurturing his love of the sport of hockey.
"My dad played hockey at a very high level and it was just in my blood," Hanas said. "I knew I wanted to be a hockey player for as long as I remember."
The Five Nations Tournament is scheduled for Aug. 15-19 in Piestany, Slovakia.
When Cross returns to the United States, he has something else to which he's looking forward, as well. He recently signed to play as a left wing with the Portland Winterhawks of the Western Hockey League, where his father once played.
"It was the greatest thing that's happen to me in my life," said young Hanas. "It's been a dream since I was a little kid to play in the WHL– just like my dad– and to be going to such an outstanding organization in Portland is more than I could ask for."