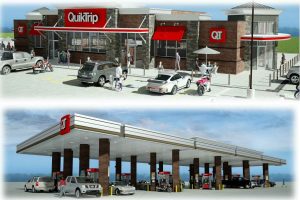 A major stretch of FM 2499 (Long Prairie Road), between FM 407 (Justin Road) and FM 1171 (Cross Timbers Road) — is an urban gas station desert.
On July 23, the Flower Mound Planning and Zoning Commission unanimously approved a revised site plan for a QuikTrip convenience store with a gas station in the Hawks Hill development at the southwest corner of the Waketon Road and FM 2499 intersection.
"We started this project back in 2013– including spending $500,000 in underground pipes to save a tree," Bobby Dollak, project manager for G&A Consultants, told the commissioners. "QT Corporate made this a new generation design especially for Flower Mound."
Corporate officials had agreed to make several modifications to its standard exterior design to meet the town's development requirements. One major change is for a silver pump canopy with a single red QT logo, rather than its usual with a thick red stripe surrounding the canopy.
The revised plan features a 4,955-square-feet convenience store– reduced from the original 5,858-square-feet– and only eight fuel pumps, down from 10 in the original, plus 41 parking spaces on 1.8-acres.
The QT project will be part of the 19-acre Hawks Hill development, which will also include nine office buildings totaling 93,000-square-feet.
Dollak had previously noted the rise in commercial growth along the FM 2499 corridor in recent years, in addition to more than two million-square-feet of retail space surrounding the intersection of FM 2499 and FM 407 just north of the Hawk's Hill site.