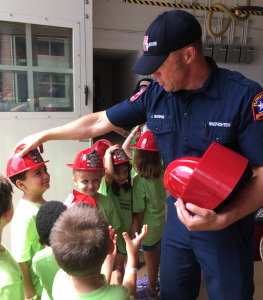 Summer campers at Primrose School of NE Flower Mound spent part of their summer break this week thanking local first responders with a special delivery.
On Monday, a group of kids attending Primrose brought cards and posters to Fire Station No. 2, 4401 Shiloh Road, as well as sports drinks and grocery store gift cards their parents had donated, according to a Primrose School news release.
The students also presented a special award to Christi Boss, Flower Mound's first full-time female firefighter, in recognition of her service to the community and inspiration to young girls, the news release said.
The school visited Fire Station No. 1, 3911 South Broadway Ave., on Thursday, delivering Firehouse subs for lunch as well as sports drinks and Kroger gift cards.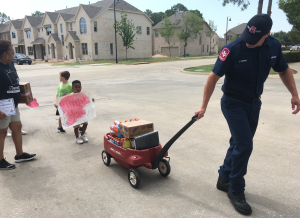 "When we learned that the firefighters spend their own money to purchase groceries for their firehouse meals, we feel like a real impact could be made by the community to donate to our hometown heroes," said Emily Lawless, director of communications for Primrose School of NE Flower Mound.
The events are part of Primrose's summer curriculum that teaches kids about citizenship and problem-solving for common emergencies while using hands-on, STEAM-based activities.