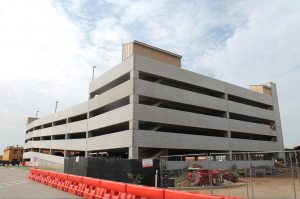 A 416-space parking garage is now open to the public during peak hours in downtown Roanoke.
The garage is free and open to the public from 5 p.m. Thursdays to 2 a.m. Sundays, according to Morgan Burns, spokeswoman for the city of Roanoke. Handicapped parking is available on the first floor. It first opened on July 5.
The garage is closed during the rest of the week as crews work to complete construction before it opens permanently, Burns said. It is located at the south end of Oak Street in downtown Roanoke, a popular strip of unique sit-down restaurants.
Vehicles must enter the garage at Crockett and Oak streets, and exit via Crockett near Walnut, Burns said. Crockett Street will be a one-way street to accommodate construction and pedestrian traffic.
In early 2019,  a nearby building will be completed with more than 300 apartments and office and retail space, and about half of the parking garage will become private. At that time, there will be 206 public parking spaces.