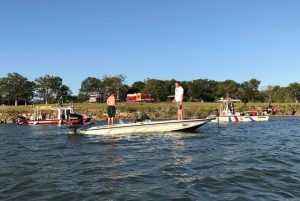 The Flower Mound teenager who drowned in Lake Grapevine last week has been identified by officials.
The incident happened about 9 p.m. July 3, according to Capt. Cliff Swofford, a Game Warden with the Texas Parks and Wildlife Department. A group of five or six people were on a sailboat on the south end of the lake when a storm blew through and tipped the boat over. Everyone fell out into the water, and all but one were able to swim back to the boat.
The victim tried to swim back to the boat, but it kept moving away from him, and he eventually went under the water and didn't resurface, Swofford said. He was not wearing a life jacket.
Game Wardens, Flower Mound firefighters and Grapevine firefighters searched the lake for the next two days before recovering the victim's body, according to FMFD spokesman Brandon Barth.
On Wednesday, the Tarrant County Medical Examiner's office identified the victim as 18-year-old Dan Thomas of Flower Mound.