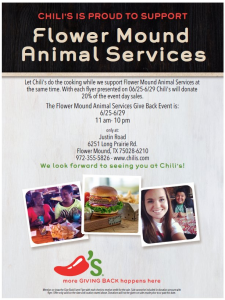 A local Chili's restaurant is holding a Give Back event this week for Flower Mound Animal Services.
Diners at the Chili's restaurant near the corner of FM 407 and FM 2499 can have 20 percent of their sales donated to Flower Mound Animal Services, the town department that runs the animal shelter. Chili's customers need to mention or show the Five Back event flyer with the check for the 20 percent to be donated.
The Flower Mound Animal Adoption Shelter accepts donations of cash, pet food, toys and supplies in case it has unexpected expenses that aren't covered by the budget, such as taking in animals in need of medical treatment.
The Flower Mound Animal Services Give Back Event is happening from 11 a.m. to 10 p.m. Monday through Friday at the Chili's at 6251 Long Prairie Road only.