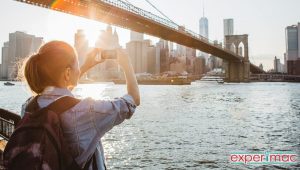 By Chris Cole, Experimac Highland Village
With the summer travel season kicking in to high gear, many people will be heading overseas for business and pleasure. Travel abroad has come a long way over the years and the advanced technology found in today's smartphones makes it easy to keep in touch and take great photos. We have gathered some tips for using your smartphone abroad as you travel the world.
When traveling abroad, you will want to do some research in advance to determine what your best bet is to keep costs under control and have a realistic expectation of the service you will be able to access. You will want to familiarize yourself with the carriers available in the country you will be visiting and the frequency bands the carriers use to make sure the phone you plan to use during your trip is compatible. There are a few options to consider.
Contact your current carrier and ask about their overseas options. This will obviously vary by carrier, by plan, and by country/region. Depending on your carrier, you may have the option to upgrade or add additional features for the duration of your trip.
Check your current phone for compatibility. When determining if your phone can be used overseas, you need to check the specific model number for your phone as most phones come in carrier-specific If you determine using your phone is not an option because it is not compatible, consider purchasing a budget phone that will work overseas.
Purchase a foreign SIM card. Whether you decide to use your existing phone or purchase a budget phone for use during your trip, you should keep in mind the option to insert a foreign SIM card into the phone.
Turn off data. Use Wi-Fi only. The most budget-friendly option, yet possibly the most inconvenient, would be to turn off the data on your phone and only use it while connected to Wi-Fi.
Back up the data on your phone, laptop, etc. BEFORE your trip. Whether you decide to do this using an external drive or a cloud-based service is personal preference but this is a good idea before heading overseas. Should you lose your phone, laptop or any other device you will be taking with you, it would be devastating to lose photos, text messages, etc. that are only saved on this device.
Verify the availability of Wi-Fi at your destination. Before heading out, check to make sure your hotel or resort will have Wi-Fi available and what the cost is, if any. This will not likely be a concern is major cities but some more remote areas may have fewer options.
Pack your chargers, power adapters, and headphones. This may seem obvious but a lot of people find themselves purchasing a set of headphones or even a charger at an airport when they have perfectly good options at home because they simply forgot to toss them in their bag.
Snapping the perfect photos? Back them up! There is no doubt you will find yourself taking photos of unique sites, great looking food and other special moments with your phone. Back up these once-in-a-lifetime photos and videos forever by setting up your phone to do this every time you snap a photo.
If your travel plans this summer have you heading abroad, consider yourself lucky and get ready in advance to make the most of your trip. Should you need any assistance with setting up your iPhone device or MacBook laptop for use overseas, pay a quick visit to our techs at Experimac Highland Village. | 972-317-0978 | 4141 Waller Creek Ste 160 | Highland Village.