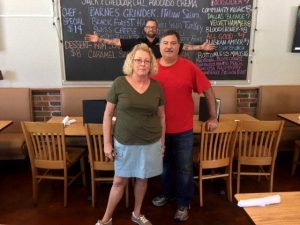 A local restaurant and business are partnering with the Flower Mound Police Department to put a "Christmas in July" spin on the Santa Cops fundraiser for local underprivileged children.
The Flower Mound Police Department hosts the Santa Cops program every year at Christmastime to give 250-300 local children gifts they wouldn't otherwise receive, according to a police department news release. Residents donate gifts and money to the program, and local stores and restaurants also partner with FMPD to support the program, often with donations of sales percentages.
Pam DiDominick, owner of Dido's Urban Grill in Flower Mound, said the restaurant helps raise money and collect donations during the regular Santa Cops program. The restaurant, located in the southeast corner of FM 3040 and FM 2499, and Ivie & Associates, located in Lakeside, are sponsoring a new Santa Cops fundraiser to benefit local underprivileged children during the summer.
"As a local restaurant, we're always seeking the community's support, and we also want to give back whenever we can," DiDominick said. "It makes us feel good for doing it, and good for the community to give back."
Dido's — 1900 Long Prairie Road, Suite 108 — will collect donations of unwrapped toys, gift cards and cash from July 9-13. On the last day of the fundraiser, Ivie employees will shadow Dido's staff "to help raise the Christmas spirit" and Dido's will donate 10 percent of its sales that day to the Santa Cops program.