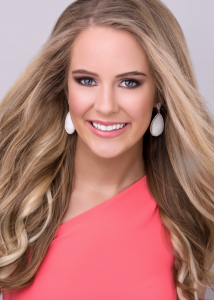 During the week of June 24, Bailee Utter of Argyle will be participating in the state level of the Miss Texas Outstanding Teen pageant.
A year ago, Utter hadn't participated in a beauty pageant; and, hadn't even been interested in beauty pageants.
It was also about a year ago that Bailee knew she wanted to try out for captain of the dance team at Liberty Christian School in Argyle. She knew that she would need to demonstrate excellent interviewing skills along with top-notch dance talent.
"She had been asked during her freshman year if she'd be interested in pageants," said her mother, Monica Utter. "At that time, she was not. But, then she remembered the pageant interview process and thought it may help her prepare for the interview process for dance team captain."
Bailee began working with a pageant coach and entered the Miss Southlake pageant last year. In her first pageant ever, she was the first runner-up.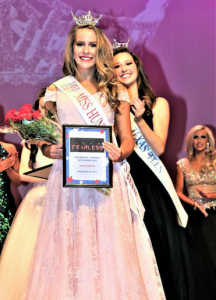 She then participated in the Hunt County pageant; and she won.
"Now she's going to state," Monica Utter said.
To compete in local Miss Texas Outstanding Teen pageants, the girls aren't limited to just the place where they live, which is how Bailee became Hunt County's Outstanding Teen. Monica said that, since then, Bailee has served in the Hunt County community.
Bailee, a dancer since she was three-years-old, recently completed her tryout for– and was chosen– as captain of the dance team. She thinks the pageant work  paid off, because she was told she gave an excellent interview.
The Miss Texas Outstanding Teen Pageant is a "little sister" program to both the Miss Texas and Miss America Scholarship Organizations. It encourages positive achievement by helping to nurture and build the scholastic achievement, creative accomplishment, healthy living and community involvement. It rewards the talent, communication skills, community service and academic achievement of girls between 13- to 17-years-old.
Monica said that Bailee will be participating in several phases of competition, including: fitness; an eight-minute interview with a panel of judges; evening gown; on-stage questions; and, the talent portion– for which Bailee will, of course, dance.
Bailee, 16, said she didn't really have any expectations when she first got involved in Miss Texas Outstanding Teen.
"I didn't know what it was going to be like, Bailee said. "I had never done anything like it. It's definitely been an awesome journey."
Monica said Bailee has enjoyed participating in the pageants and the experience has given her more confidence.
"She's learned how to present herself and how to care for others– and she's grown so much in a short amount of time," Monica said. "It's so much more than beauty. They're looking for a real girl, who can be every girl's best friend and I think Bailee is that genuine girl. She's the poster child for that system and it has helped bring it out of her even more."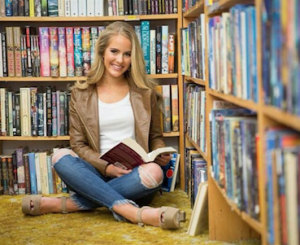 Bailee — whose father is Bill Utter, the owner of the Bill Utter Ford dealership in Denton — is hoping to address the issue of illiteracy.
After Bailee witnessed a fellow high school student unable to read aloud in class–  and later was bullied because of it– she launched a personal project called "Leading by Reading," which is a mentorship program for upperclassmen to read with elementary students. She also implemented book drives at car dealerships throughout the DFW area.
"As Miss Texas' Outstanding Teen, I will expand my platform statewide, enlisting other schools and car dealerships," Bailee said on the pageant's website. "With your help, we can drive this message and bring more communities together."
Folks at home can have an impact on the pageant. The two contestants with the most votes raised in their name, in the People's Choice Award, will automatically get a spot in the Top 12 on final's night to compete for the Miss Texas Crown.
Each dollar donated to the Miss Texas scholarships equals one vote.
Click here for more information.